The prospect of starting a business seems exciting when you think about it. However, considering the massive time and financial investment involved, the trepidation that most beginners experience at the start is understandable. 
If it's an Amazon business, you may even develop cold feet at the thought of carrying out Amazon product research, keyword research, and listing optimization.
An Amazon business can be a profitable venture if you set out on the right foot, and if you don't? Well, you are likely to make losses. Although there is the possibility of making losses on Amazon, over 2 million sellers currently earn substantially on Amazon. You can too, the question is how?
As with any successful business, building an Amazon business is not easy; however, the bulk of the work must be done before you get started. In this post, we will talk about two major aspects you should pay attention to before you launch your next business venture.
Related: How to sell on Amazon FBA for Beginners
Content
Amazon market research 

Amazon product research

How to carry out effective Amazon product research

How to develop a market strategy

Amazon Market Research: Market Analysis

Conclusion
Amazon Market Research
The worst mistake any business owner can make is to start a business without in-depth market research. However, not every seller knows about this, but if you read to the end you can reduce your chances of making losses on Amazon.
Amazon market research is simply carrying out a bird's eye survey of the marketplace before diving into it. There are several product categories on Amazon, but not every one of them has the potential to bring in sales. How do you determine which market has a high potential for success? By determining how viable the market is.
What Does Market Viability Mean?
Market viability refers to the possibility of being successful in a particular market. To determine how viable a market is, you'll have to check out sales trends and carry out a competitive analysis. Usually, markets or product categories with fierce competition are less viable for sellers who are just setting out. 
If a market is already saturated, its viability is very low, because you will most likely struggle to make sales especially if your competition is composed mainly of well-known brands who already have an audience.
Amazon market research helps you choose the right product categories or niches to carve your business around. But it is still a broad survey, you will need to narrow down your options. This is where Amazon product research comes in.
What Is Amazon Product Research?
Amazon product research is the next step once you have effectively carried out Amazon market research. Amazon market research will help you choose which market to carve your niche around. Product research, on the other hand, helps you figure out which products are the best ones to sell in any market you choose.
Market viability analysis helps you assess your chances of making sales in a particular niche or market, while product viability is more concerned about a product's potential for sales, not the entire market. So before you decide to sell any product on Amazon, you must determine how viable the product is, and the likelihood of sales.
How do you determine a product's viability? You can do this by researching what your audience needs, and how well-suited your product is to meet their needs. Although this is the first step to determining a product's viability, there are several other steps you must follow for Amazon product research to be effective.
How To Carry Out Effective Amazon Product Research: 6 Proven Steps
A huge part of your success on Amazon will depend on how profitable the market you're in is, and your ability to choose a winning product. If you're ready to get this aspect of your business right, let's get started. Here are a few steps to help you:
1. Fix your ideal product requirements
Identifying the initial criteria for the products that you want to sell is the first step. Different attributes of a product, such as size and weight, impact its profitability. Before researching possible markets, when carrying out Amazon product research, you must determine which requirements your products need to fit.
Here are a few things to bear in mind when researching a potential product:
Small size and weight – The larger an item is, the more costs you're likely to incur.

Choose sturdy, imperishable items – These kinds of items are easy to ship, and will not make you run at a loss if they stay too long on the shelf.

Breakable items may be destroyed in transit, leading to a high order defect rate. 
The ideal product meets all the aforementioned criteria and will be easy on your budget. If the product you have in mind seems like a good one but does not meet all these requirements, you may have to take extra precautions and increase your budget to give room for any unexpected extra costs.
2. Keep an eye on what your audience is searching for
The internet is one of the first places people check for solutions to their problems. The next step is to find out what your audience is searching for. One way to do this is to take a look at search terms.
How do you find out what people are searching for?
Use an Amazon Analytics tool  
These are tools that can provide you with reports of what people are searching for on Amazon. Alongside providing you with search results in your niche, these tools also help you find relevant keywords for your Amazon store.
You can use Amazon product research software like ZonBase to find the most profitable products for your Amazon store. 
ZonBase is an Amazon product research tool that contains all the Amazon seller tools you need, including a sales estimator and Reverse ASIN tool for competitive analysis. You will find out more about this Amazon product research tool shortly.
A detailed Amazon Trend Report provides an overall view of potential customers. There is currently a weight loss rave, you're likely to get many search results if you happen to be in this niche.
Google Trends and other search engine analytics tools can also help you find out what your audience is searching for.
3. Identify your target audience
The work begins when you determine a list of potential products you can sell. The key to finding the most profitable products on Amazon is to streamline your target audience by creating user personas.
The easiest way to create user personas is to put yourself in your customers' shoes and try to understand their needs and how your product is supposed to serve them. Then, choose a product that captures this need and solves it perfectly.
4. Carry out competitive analysis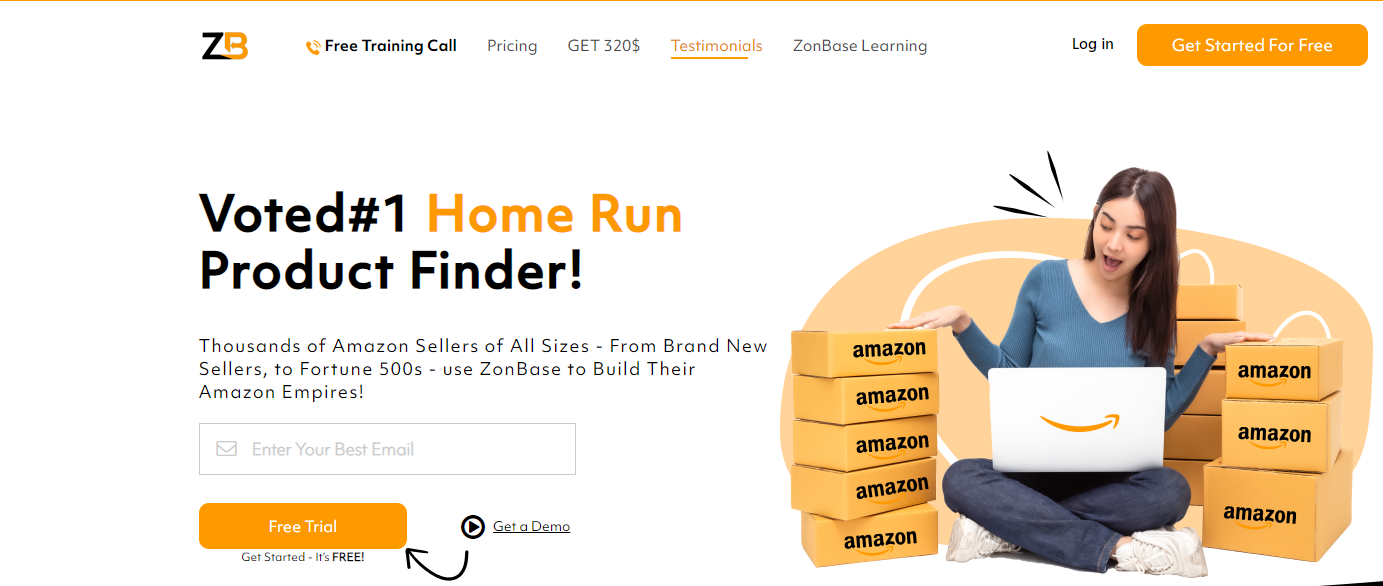 Next, you will need to conduct a competitive analysis. You will be able to sell your products better especially if you are in a niche with fierce competition in your market. 
The best way to beat and outrank your competition on Amazon is to infuse an in-depth competitive analysis into your Amazon product research strategy.
When carrying out competitive analysis, you should take note of these:
Customer reviews and ratings – Check out reviews on your competitors' products. You can then use these reviews to improve your products and service.

Product listing quality – If your competitors' listings are below par, you should note their mistakes and make your listings better. This gives you a competitive edge and increases your chances of generating high sales volume.

Check out the kind of brands you are competing with. If Amazon sells products similar to yours, or there are several high-street brands in your niche, you certainly have more work to do.
ZonBase's Reverse ASIN tool and Chrome Extension are effective tools for competitive analysis. Check them out here.
5. Decide how you will source and promote your products
Once you have chosen a product for your Amazon store, the next step is to find a genuine supplier, and decide how you will promote your products to make sales.
There are different Amazon business models you can choose from. Here are the options you have:
After choosing a business model, you can make use of Amazon software for supplier research. The ZonBase Hot Products tool can help you generate a list of authentic suppliers to source your products from. 
Launching your product is not the end of the process, however. You have to promote your products if you want to make sales. 
So how do you promote your products on Amazon?
Facebook and Instagram ads can be a great way to retarget your audience and direct them to your Amazon store. In this time and age, everyone is online and the best way to get people's attention is to use the internet, especially if your business is online.
You can advertise your product on Amazon using Sponsored Products ads or Sponsored Brands ads. Advertising on Amazon can be profitable if your product solves a problem. 
There are several other ways to promote your products. A few minutes of research will help you decide which approach works best for you.
Now that you have purchased your products and are ready to kick off, the next thing is to fix your product prices. You must have made major observations about product prices while carrying out competitive analysis. Here's where you will need to use the information you have gathered.
Set competitive prices, and avoid underpricing or overpricing. One of the major mistakes that sellers make is underpricing their products in a bid to make more sales. Underpricing could give buyers the impression that your products are of low quality. Overpricing, on the other hand, could scare potential buyers away.  
Both scenarios will hurt your business, so set your prices right! Your product prices should be in the same range as those of your competitors. 
Before fixing your prices, take all overhead costs and production costs into consideration. This includes Amazon FBA fees, shipping fees, taxes, salaries, and several other expenses.
Amazon Market Research: Market Analysis
There are several types of analysis every business owner should take note of when executing Amazon market research. For the purpose of this post, we will talk about the most important, easy-to-understand one.
SWOT Analysis
Here, you analyze your competition based on four important traits:
Strengths

Weaknesses

Opportunities

Threats
Observe your competitors' strengths, and understand the areas in which they excel. Next is to look out for their weaknesses, find something to take advantage of, and make your brand or product better. 
Conclusion
Effective market research and Amazon's product research strategy are the first steps to success on Amazon.
When setting up an eCommerce business, the viability of the market and the product is key to evaluating market opportunities. Whether you are struggling or need a few tips to help you, here are a few tips you can use. Now that you are ready to take on the Amazon marketplace, an Amazon product research tool will help you get the work done in less time.