Content
What is Amazon FBA?
Top 5 Most Profitable Product Categories for Amazon FBA sellers
How to find the most profitable products to sell on Amazon
What is the best Amazon seller software?
Conclusion
Selling online and earning passive income has certainly become one of the most talked-about topics on the internet. Amazon is the world's largest online marketplace and there is no better place to sell than Amazon. However, everyone can start an Amazon business, but not everyone knows how to find profitable products to sell on Amazon.
Behind every successful Amazon business, an Amazon FBA seller has dedicated time to effective product research to find the hottest products on Amazon. Do you dread being stuck with products that no one is buying? You need to find the most profitable product categories on Amazon and build a niche around them.
In this post, we will not only show you the top 5 product categories for Amazon FBA sellers who want to build successful Amazon FBA businesses. We will also tell you how to find the most profitable products in each category, and the best Amazon seller software to use for this purpose.  First, a quick overview of Amazon FBA.
What is Amazon FBA?
When you decide to start an Amazon FBA business, you will have two options to choose from. You can choose to run a Merchant fulfillment (FBM) or Fulfillment by Amazon (Amazon FBA) business.
If you choose the Merchant fulfillment option, all your business processes like storage, shipping, and customer service will be carried out by you. But if you choose the Amazon FBA option, Amazon will take care of all your business processes – storage, fulfillment of orders, customer service, and shipping.
Amazon FBA takes all the stress off you, all you have to do is find the most profitable product categories, build a niche around those products. To do this, you can make use of an Amazon product research tool.
We have carefully curated a list of the most profitable product categories for Amazon FBA sellers and even the best Amazon product research tool to help you do the job. Keep reading.
Related: 10 Tips to Boost Amazon FBA Sales in 2021
The Most Profitable Product Categories for Amazon FBA sellers
What are the hottest products to sell on Amazon in 2021?
Books
Yes, you read right. So, the next time you see a book, a hard copy book to be precise, you can be certain that it is one of Amazon's hottest products. Even Jeff Bezos started Amazon as an online bookshop, so books definitely have a special place on Amazon.
Everyone has a smartphone these days and there are thousands of apps where they can access ebooks, however, not everyone can keep up with the distractions that come with reading soft copy books, so hard copy books come in handy.
You can never go wrong selling books on Amazon. What's more? You can even sell books for as much as a 1000% increase in price, although this might not work all the time.  While you may not want to carve a niche around books alone, it should be a part of your Amazon store.
More Babies, More Income.
Baby products for the win! It is impossible to get stuck trying to sell off baby products because babies will never be extinct.
There's a daily increase in the population, more people are having babies every day and they certainly need a lot of stuff. First-time parents are usually caught up in the excitement, Amazon is one of the first places they check for baby items and that's where you come in.
Babies are always growing and if you sell good stuff, there is a high chance that their parents will keep coming back to your Amazon store. So, what to do? Stock up on baby products! Good thing is, these products are often lightweight, durable, inexpensive and they never get outdated. Want to play safe selling on Amazon? Cater to baby needs.
Everyone wants Gold.
Have you ever heard people say buying gold is an investment? Purchasing gold and other jewelry for use or sale is never a waste of resources and you can never be at a loss.
Gems, precious metals, and jewelry especially those of high quality are always in high demand. Everyone wants to own one of these items and you can be the one to make their dream come true if you add this to your Amazon store.
The bright side of selling gold and other precious metals is that they never depreciate, the value only increases. So if you have any of this in-store now and still have it in a year, you will certainly make more profit from it even then. Wondering if there is a downside to this? Well, there isn't, so go ahead and sell Gold on Amazon.
Work-out clothes for team Fit-fam.
Health is wealth. Exercising and keeping fit is a major part of staying healthy, so that phrase is right because workout clothes are one of the best ways to make money on Amazon.
Who wants to go jogging looking being uncomfortable in regular clothes? No one. Although clothes don't make a difference in one's lifestyle without consistency and discipline to stick to a fitness routine, looking good while on the fitness journey is a huge plus.
Almost everyone is trying to lose weight these days or just be generally fit, however, everyone wants to show off their results once in a while. You can take care of the looking good aspect, while they stick to their routines.
You can also increase profitability by selling new clothing to customers (can you imagine buying a pair of used sweatpants? Eww!) Most people want to buy new clothing, so you can sell more.
Electronic Gadgets and all their peripherals
Technology is a major part of the modern world and electronic gadgets are an essential part of technology. 9 out of 10 people own an electronic device, so these gadgets will always be in demand.
Electronic gadgets are on our list of the top 5 most profitable products to sell on Amazon for Amazon FBA sellers.
Here's why:
The relatively lower amazon commission fee (8% vs.15%)
Too many choices and subcategories within a category. You can not run out of options.
New devices are released every day (Everything is updated)
Brilliant retail arbitrage opportunities, sometimes every week.
It is not enough to know the most profitable product categories, every Amazon seller needs to know how to find the best-selling products in every category.
Related: Amazon FBA Cheat Sheet
So, let's talk about how to find the most profitable products in every product category.
How to Find the most profitable products to sell on Amazon.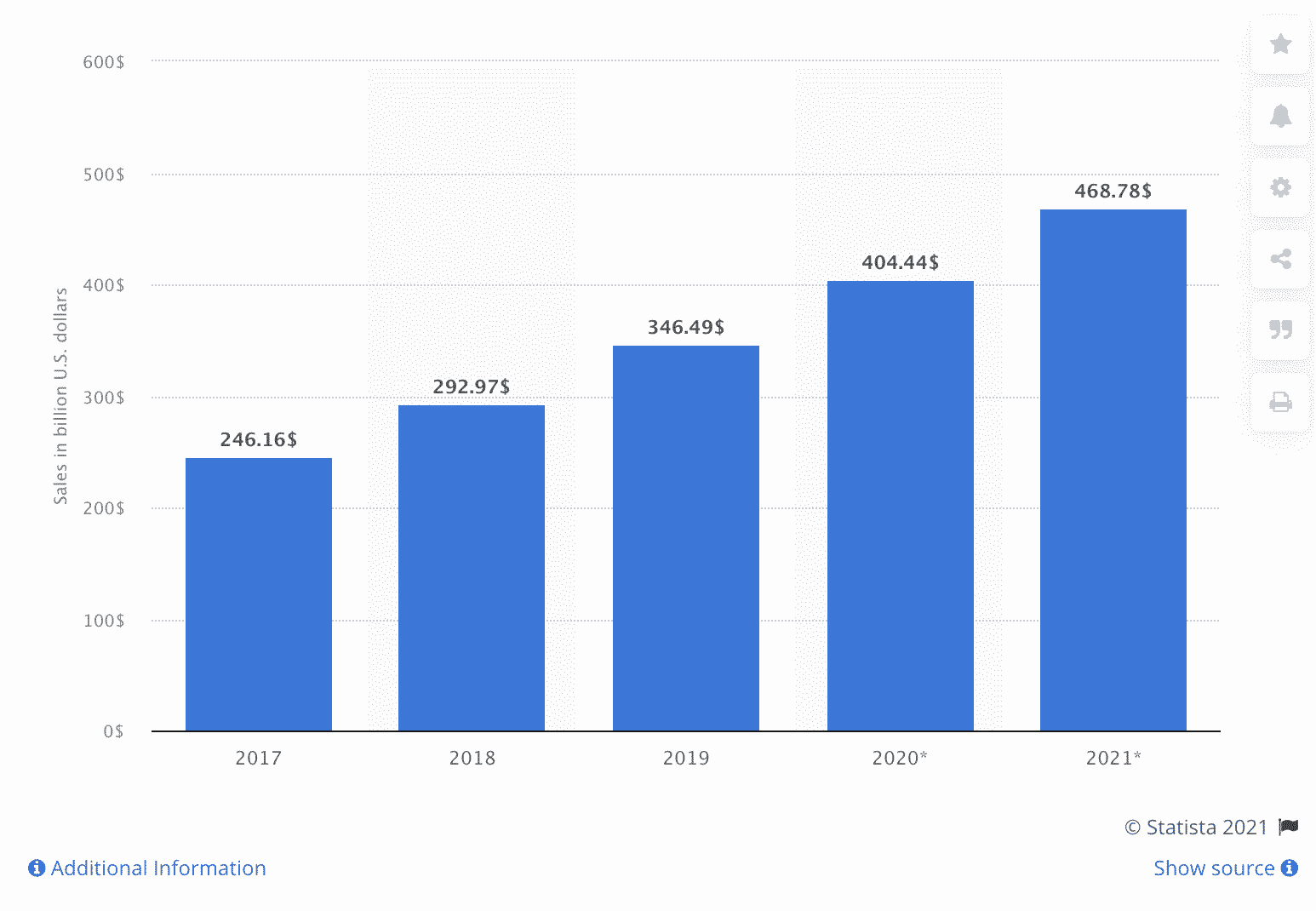 (source: https://www.statista.com/statistics/1103390/amazon-retail-ecommerce-sales-global/)
Amazon is a one-stop platform for over 300 million people all over the world, the platform houses over 2 million third-party sellers.
Amazon FBA has grown tremendously over the past few years, with sellers earning up to six figures per month. Below are some statistics you might find interesting:
In 2017, over 300,000 3rd party sellers began selling on Amazon.com.
More than 140,000 third-party sellers have an annual sales volume exceeding $100,000.
There are almost 2.5 million active sellers on Amazon (as of 2019) selling their products.
There are approximately 25,000 Amazon sellers making over $1 million worth of sales and 200,000 Amazon sellers making over $100,000 worth of sales.
It is almost impossible to make sales and dominate the Amazon marketplace if you do not know how to find the best-selling products in the most profitable product categories.
Amazon sellers often want to know what products are the top-selling items on Amazon in every category, but not every Amazon seller is aware of the sure-fire approach to finding these products. Here are the top 4 ways to find the most profitable products on Amazon:
Use Amazon Best Seller Lists
Amazon knows what its best-selling items are, and it has compiled these items into a bestseller list.
Amazon doesn't release sales numbers for specific products, but it does have bestseller lists that show what products are popular at any given time. It is not necessary to sell products at the top of the top 100 or the top of all-time sales if you are looking for best-selling items. It is still possible to be profitable even if your product ranks in the top 1000 or 10,000.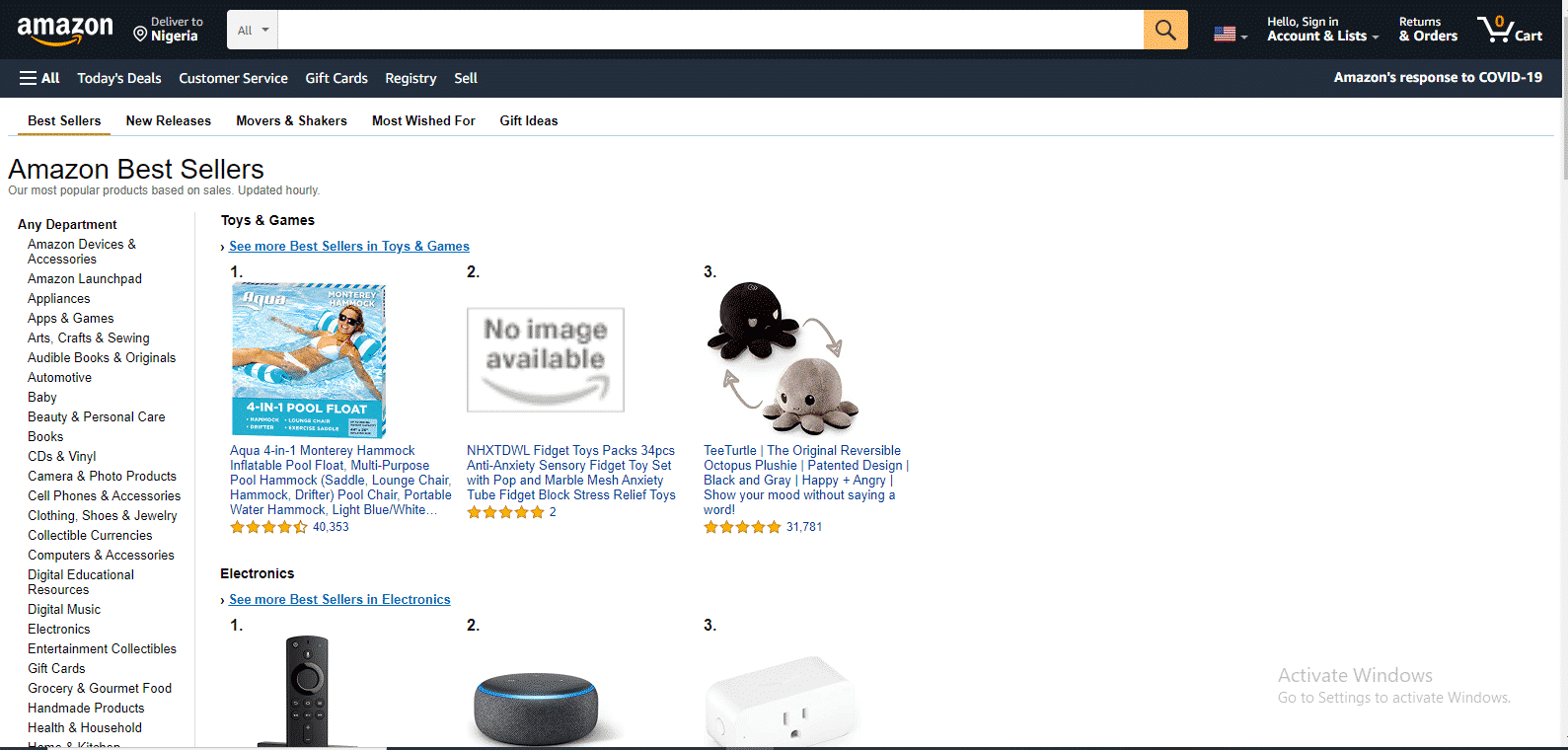 You can start by visiting the Amazon Best Sellers page to find the most popular items on Amazon. The bestseller lists are compiled based on sales volume and updated hourly according to the most recent statistics. The top products are broken down by category so you can see which ones are most popular.
However, it's important to note that, while this list is useful, it's more indicative of what's trending at that moment. Over many months, you can analyze Amazon's bestseller list,  It is possible for a product to be popular for a short period and then suddenly fade away.
To find the best-selling products that sell consistently over time, you will have to use tools that are specifically designed for this purpose. Amazon product search tools and Amazon FBA chrome extension can effectively do this.
Research what products are best for you
Not all best-selling products are best for you, you have to consider a few things before concluding on suitable product options for your Amazon store. You may find these tips to be helpful:
A good cost is between 25 to 35% of the price you intend to sell your product for
You should aim for a selling price of $10 to $50
Lightweight products (around 2 to 3 pounds) are preferable. Boxes and packaging included
Reduce the risk of loss by investing in simple and less fragile items
Products that are used regularly have a higher chance of sales
Better quality products when compared with the competition.
Analyze your competition
The Amazon marketplace has over 2 million active sellers, the market is highly competitive and you need to be on top of your game. To do this, you need to spy on your competitors constantly. Here are a few tips to help you beat your competition and dominate the market.
Products that are not trending or being sold by major brands and Amazon sellers
Items that have a Best-Seller Rank (BSR) of 5000 or lower
Searchable products that fall under multiple categories and keywords
A leading product keyword with fewer than 10,000 searches per month
Similar product listings having less than 50 reviews.
Use Amazon seller software
These product categories are the most profitable but you have to narrow down your search to find the best-selling products in each of these categories. The best Amazon seller software can help you do this, there is a plethora of Amazon seller software to help you find the most profitable products in each category.
Some Amazon seller software only has specific Amazon product research tools while some others have Amazon product search tools, keyword research tools, and listing optimization.
The best Amazon seller software is one that has Amazon Fba tools for all your Amazon seller needs. That way, you can find the most profitable products on Amazon using its Amazon Product research tool, and you can gain more visibility with the keyword research and listing optimization tools in it.
Selling on Amazon is not only about finding the hottest products on Amazon, you also have to come up with effective product research and keyword research strategies. This may be a bit tasking especially if you are just starting and trying to learn the ropes as an Amazon seller.
Visibility is a core part of running an Amazon business, you need to be visible to get people to buy your products. The goal is to find an Amazon seller software that will help you find the most profitable products and gain more visibility to make sales.
Now that you know what the top 5 most profitable product categories on Amazon are, what is the best Amazon seller software to help you find the hottest products in each category and sell out in no time?
What is the best Amazon seller software?
ZonBase is the best Amazon seller software that houses Amazon product research tools to help you narrow down your Amazon product search and sell out in time. ZonBase also contains multiple keyword research and listing optimization tools to help you gain more visibility.
ZonBase gives access to a holistic platform of tools for Amazon FBA sellers in one place. Amazon sellers appreciate its simplicity and ease of use that makes it the leading one-stop Amazon seller tool.
It includes a comprehensive toolkit of 13 Amazon seller tools that contain multiple Amazon product research tools, keyword research, and listing optimization tools.
Here's a list of the Amazon product research tools available on ZonBase:
ZonBase Amazon Product Research tools
This Amazon product search tool is a deep search tool that helps you easily identify the best-selling products in your niche and rank them in only a few seconds. You can search by keyword, category, rating, or price and see the hottest Amazon products at your fingertips.
ZonResearch carefully selects effective keywords to help you rank on page one in very little time. You don't have to make blind guesses and risk losing money; you can use search filters by criteria and narrow your options down to only the best.
What's more? As a seller, you can also utilize this Amazon tool to run searches using default specifications, or you can create and customize your own, and use them repeatedly without having to start your search process from scratch each time.
These features have made ZonResearch one of the top Amazon product research tools that have gained tremendous recognition from top Amazon sellers around the world.
ZonResearch is available on ZonBase legendary plan which costs about $97/month or $804 annually. If you go with the annual subscription, you get to save $30 every month.
Wouldn't it be great if you could learn the hidden details about a product before selling it? You need an Amazon Fba chrome extension tool to help you do that.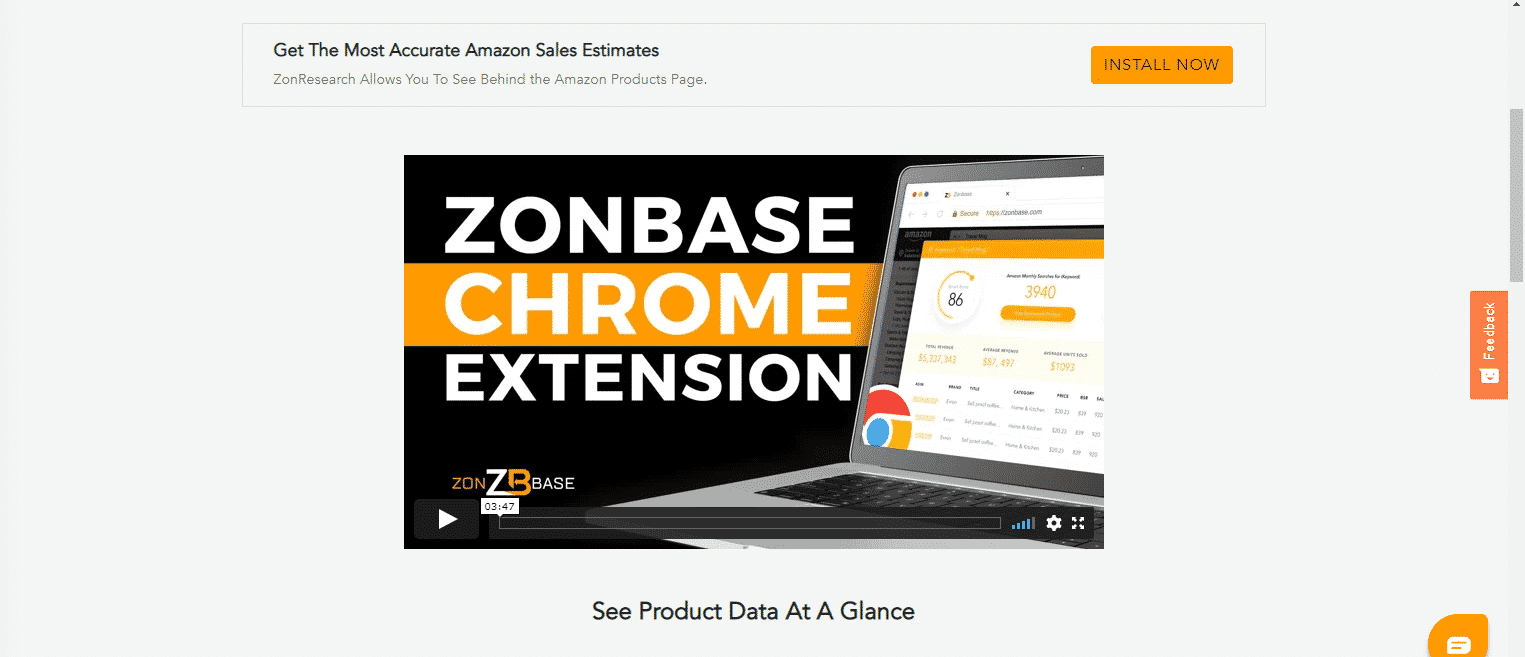 Zon Amazon FBA Chrome extension will give you access to every piece of data you need regarding a product. The best products for your store don't need to be picked based on hopes that they will sell, you can forecast sales accurately and choose the best products.
Combining the Amazon FBA Chrome extension with the ZonBase Reverse ASIN tool can make an already extremely effective tool even better.
Competitive analysis is an important part of operating a successful online or offline business. If you're looking to spy on your competitors and scale up your business, Reverse ASIN is the best Amazon FBA tool for you.
You need to research the right keywords, preferably those your competitors are using, to create the perfect product listings.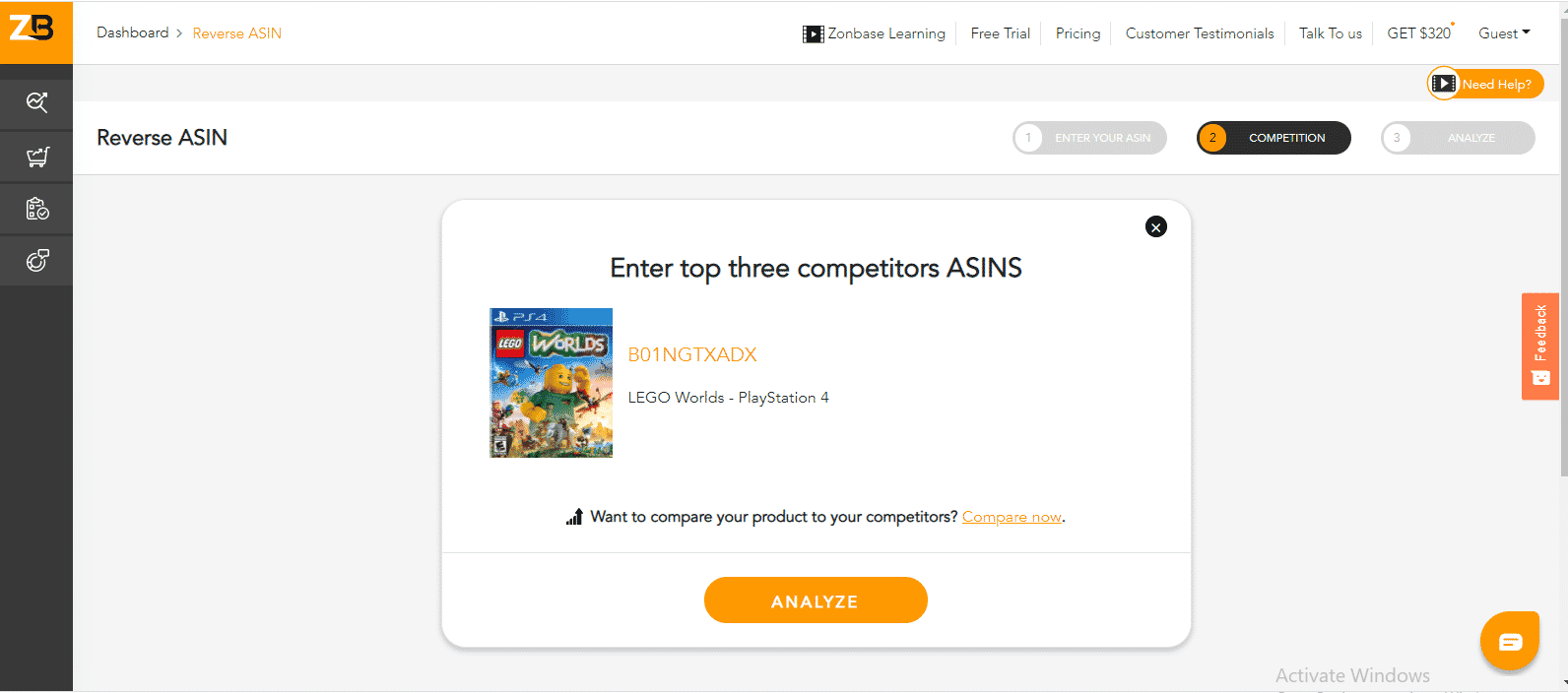 With the ZonBase Reverse ASIN tool, you can discover what keywords your competitors are using and currently ranking for, with this information, you can then go ahead to outrank them and double your sales.
Right now, one of the most popular Amazon product search tools is ZonBase Hot Products. It is one of the few recognized Amazon seller tools that make use of important data, sales trends, and reviews to create a solid, reliable, and updated database.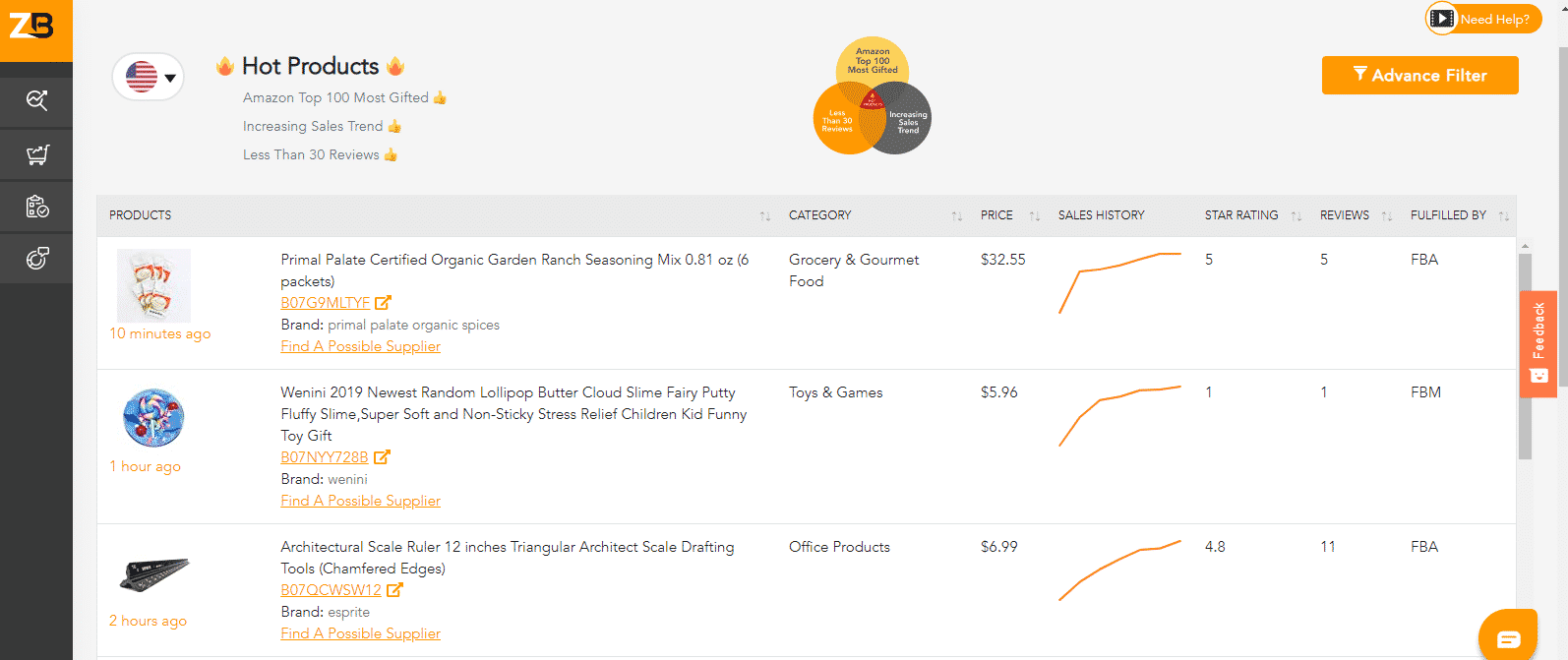 This Amazon product research tool is one of the fastest ways to access the best products on Amazon in less than a minute.
Having your next set of products handpicked by ZonBase Hot products makes product research easy. Ever wondered if you can have all the hottest products handpicked for you? Now you can do just that.
Do you have a specific product in mind but are uncertain of its demand?
ZonBase Product Validator is the most effective Amazon product research tool to validate your product options and help you cut down risk.
Using the ZonBase product validation tool, you will have a team of experienced launch managers reviewing your product. You will achieve better results from your product research process with such experienced personnel on your team.
Sometimes, in business, all you need is expert assistance to beat your competitors and grow your business. ZonBase product validator offers you a guaranteed approach to selecting products suitable for Amazon FBA and is in high demand.
Conclusion
Once you have found the most profitable products to sell on Amazon, you should focus on creating a remarkable buying experience for your customers. Your goal should be good reviews and returning customers. It's not just about how many products you can sell each day. Rather than looking for new customers, you should focus on how many repeat customers you can get. Your success as an Amazon seller will depend on this.