As more and more people are ditching walk-in stores for online stores, the eCommerce world has experienced a rapid boom. There is room for everyone, and there is no better time to start an online business than now.
It can be extremely challenging to keep up with your business processes after you start an eCommerce business. Many eCommerce tools are available to ease your workload. 
In this post, we have painstakingly curated a list of essential eCommerce tools to help you in different aspects of your business. 
With the holidays in view, these eCommerce tools will come in handy. Here's a list of the most important eCommerce tools every online business owner should use.
Related: Which Ecommerce Platform Is Best For Small Business?
1. Amazon: Online Store 
Currently, Amazon is the largest online marketplace in the world, with over 2 million active customers and over 350,000 active sellers. Selling on the platform not only gives you access to millions of online shoppers.
Running an Online business can be exhausting if you have to sort out storage, shipping and still provide customer service. Amazon takes this burden off you through the Fulfillment by Amazon (Amazon FBA) service. Amazon offers this service to its third-party sellers, if you use Amazon FBA, Amazon will store your products, ship them and provide customer service for your business.
Amazon also offers a Multi-channel fulfillment option that allows you to sell across different marketplaces and still make use of Amazon FBA. 
If you are considering joining the eCommerce train, Amazon should the first eCommerce tool on your list.
Related: Is Amazon FBA profitable?
2. Amz Automation
Online businesses should be passive income sources, but only if you don't have to do all the work.
While Amz Automation is more of a service than a tool, it still passes as an eCommerce tool to make life easier for Amazon sellers.
Amz Automation is a done-for-you Amazon business automation service that handles all your business processes on your behalf. It is simply an Amazon business service where a team of experts will handle your product research, keyword research, and listing optimization processes.
These processes can pose a challenge especially if you are a newbie in the Amazon marketplace. Having a team of experts to handle your business while you make a profit and do other things is every seller's dream.
Amz Automation is the secret of most top league Amazon sellers' success – you can make more sales without doing more work with this eCommerce tool.
3. ZonBase: Amazon Seller Tool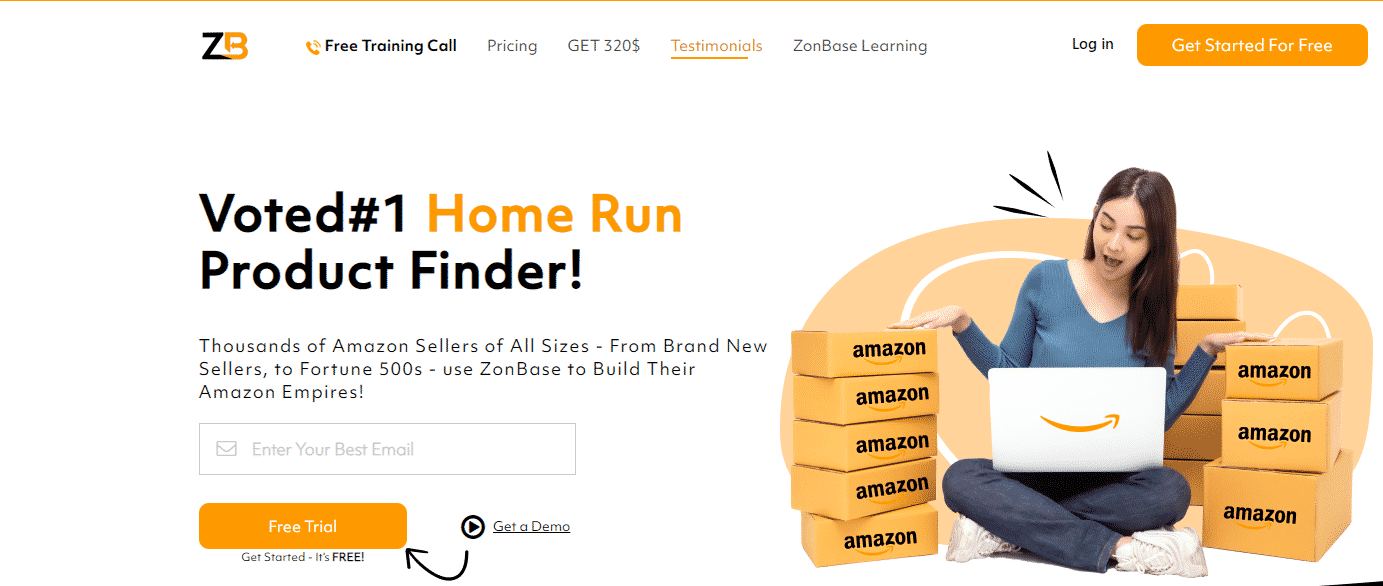 Product research, Keyword research, and listing optimization are core processes of any online (Amazon) business. Carrying out these tasks manually is a lot of work, ZonBase is an eCommerce tool for product research, keyword research, and other business processes.
ZonBase houses 13 tools, each specifically designed to carry out these tasks. There are five product research tools, three keyword tools, and two listing optimization and PPC tools. ZonBase is the perfect eCommerce tool to help you find the best products and keywords, optimize your listings and create PPC campaigns that convert.
ZonBase Product Research Tools
ZonBase has an effective collection of product research tools to help you find the most profitable products on Amazon
ZonResearch and Zon Chrome Extension will bring you the hottest product options for your Amazon store. The Hot Products tool will help you find other product suggestions and carry out supplier research. ZonBase's product validator will then narrow down these search results to only the best. There is also the Reverse ASIN tool that provides all the information you need about your competitor's products.
Related: Best Amazon Software for Product research
ZonBase Keyword Research Tools




ZonBase's

keyword research

tools are the best

eCommerce tools

to find relevant keywords for your eCommerce store.
The keyword tool generates relevant keywords for your store using an updated Amazon database, Zon Tracker helps to track your keyword performance so you can decide which keywords to ditch, the Reverse ASIN tool uses competitive analysis to help you outrank your competitors.
ZonBase contains several other tools for improving product images, optimizing product listings, and improving your rankings on Amazon. When it comes to researching products for sale, ZonBase captures, analyzes, and refines billions of data points directly from Amazon. ZonBase offers a 7-day free trial, 30-days money-back guarantee, and the standard plan is available for $37 per month for one user.
4. Canva
Canva is a design tool that will come in handy if you intend to run ads or promote your online business on social media. The tool is available on desktop and mobile and requires no technical skill or experience.
Canva offers pre-designed templates that are perfect for small eCommerce businesses because you can create everything you need with ease. All you have to do is choose a design or video template.
The free version comes with limited features (but has more than 8000 templates), with the Pro version being only $9.99 per month.
5. QuickBooks
While keeping your accounts in check is not high on an eCommerce business owner's priority list, it's an essential task, so a good accounting program is needed. Losing track of your accounts can pose harm to your business, if you do not have a knack for numbers, Quickbooks will get the job done.
As your business grows, you can use this accounting software to manage it and keep track of your records.
Using QuickBooks, you can manage your income and expenses, generate reports, pay your bills, and prepare your taxes. Even though it is comprehensive, it requires some learning to make the most of the software, so be prepared for that.
Prices start at £12 per month for the Simple Start package after a 30-day free trial or no free trial with a discount of £6 per month.
6. LivePic 
LivePic is an email marketing tool that allows you to send personalized emails to your customers. In business, it is important that you constantly reach out to clients and build a connection with them.
Personalized emails are a solid approach to doing that. With LivePic, you can send regularly personalized emails to your clients, you not only get to create a connection with your clients, but you also get to update them.
7. Buffer
A business's social media presence and engagement are essential. Your target audience is online, so posting online is important too since you're selling online.
However, it takes a lot of time. The Buffer tool automatically posts your content to your social media accounts according to a schedule that you set.
Buffer provides a full customization option, so you can schedule posts for specific time zones, days, and dates. Ultimately, this allows you to focus on all the other aspects of your eCommerce business without having to worry about your social media presence.
You can try Buffer free for 14 days, and the Pro package is $15 per month. The tool allows you to schedule up to 100 posts across eight social media accounts.
Related: How Facebook Ads Can Help My eCommerce Business In 2021
8. Oberlo
If you want to start an online business, but without the complexities that come with it, you may want to consider dropshipping.
A dropshipping business is ideal for anyone who doesn't want to manufacture the products but can market and sell them right at a higher price.
With dropshipping, you simply connect the buyers to the suppliers without buying products yourself, but you will need a tool to do this. Oberlo is a dropshipping tool that can help you do this.
There's no better eCommerce tool for dropshipping than Oberlo. For sellers who have Shopify stores, Oberlo is certainly the perfect tool. Adding products to your Store and sending them directly to your customers is an easy process.
The best part? Oberlo is free for up to 500 products, so you can get started right away. Although Oberlo does not work for dropshipping on Amazon at the moment, Amazon sellers can use Amazon FBA for dropshipping.
Related: Amazon FBA vs Dropshipping- Which is More Profitable?
9. Packwire 
Packwire is a custom branding and packaging tool. If you are building a brand, the way customers perception of your brand is very important, and it may be the factor that makes them come back.
Private label sellers on Amazon who intend to build their brands will find Packwire to be an effective eCommerce tool.
First impressions matter and quality packaging can turn indifference into awe. If you want to enhance your brand image, you should consider upgrading your packaging.
Packwire is an eCommerce tool that provides customized branding solutions that capture your ideas perfectly and create a long-lasting impression on clients.
10. BuzzSumo
If you are building an online business, then social media is an essential tool. However, it is impossible to build your social media presence if you do not know what kind of content your target audience wants.
Buzz Sumo is an eCommerce tool for finding the best content ideas for your social media and blog posts. 
For blog posts, social media posts, or newsletters, BuzzSumo makes it easy to search for the subject matter and find the most popular articles. This new information can then be incorporated into your business's content. It's as simple as that.
The tool offers a 7-day free trial, after which it costs $99 monthly.
11. Easy Digital Downloads
Easy Digital Downloads is an eCommerce tool that lets you sell your digital products such as courses and ebooks online. It lets you create discount codes, track downloads, and restrict access to files on your WordPress website.
There are no limitations on the number of digital products you can sell with it, plus it is easy to integrate with Amazon Web Services, PayPal, Zapier, Dropbox, Slack, and other tools. The importance of seamless delivery becomes especially apparent when working with digital products. With Easy digital downloads, you can be sure of seamless service.
12. Zapier
If you decide to set up an eCommerce business, then you will have to work with many apps, especially if you maximize our list of eCommerce tools. Navigating all these apps can e quite complex, so it is best to connect some of these eCommerce tools so that their functions become automated, thus saving both you and your business time. Zapier can assist with this process.
Zapier is an online integration tool that connects all your favorite apps without any need for technical or coding experience. The tool is easy to use and affordable as well, with packages starting from £15.45 per month for up to 750 tasks, and a free trial for up to 100 tasks.
Conclusion
It's important to take into account those eCommerce tools that could make a real difference to your eCommerce business in 2022 and beyond. By no means is this a complete list of all eCommerce tools. You, however, may not need all the eCommerce tools listed.
Try out the free trials of the eCommerce tools you think would be beneficial to your business, and then you will know whether it is a good fit for your organization.