Amazon is unarguably the best place to sell. Owing to its 2.5 million active sellers and 300 million customers, the platform has undisputed market dominance, and there is still room for more sellers. However, while some sellers are putting in the work to build successful businesses on Amazon, some others choose to enjoy without working.
Running an Amazon business is not a get-rich-quick scheme, and it takes a lot of commitment and patience to see actual results.  Some people put in this much effort only to have their Amazon listings hijacked. This is every Amazon seller's nightmare. 
It's not uncommon for Amazon listings to be hijacked, but you're only in danger if you're ignorant. Now that you know it exists, you can protect yourself. In this post, you will learn more about Amazon hijacking, how to secure your listings, and what you should do if something goes wrong.
Related: Amazon Keyword Research: Amazing tips to optimize your Amazon listing
[sc name="exclusive"]
What is Amazon Hijacking?
Have you ever checked your product listings and saw that there were two offers on your listing? No, you didn't permit this other seller, your listings have been hijacked! 
If you sell private label products on Amazon, then you're most likely conversant with this and can relate to the heartbreak that comes with having your Amazon listings hijacked.
Amazon Hijacking simply means that a random person checked your listing, saw that your products were performing very well in sales, and decided to put up a counterfeited similar version of your product for sale.
As an Amazon seller, your reason for deciding to sell private label products was to reduce competition and increase your chances of winning the 'Buy Box'. Amazon hijacking thwarts the possibility of this because these hijackers will stop at nothing to ensure they make sales too.
Now you're no longer competing with legit Amazon sellers, but you have to compete with Amazon hijackers who have put up your products, using your branding and everything else, but at a ridiculous price.
What Amazon Hijacking does to you
As you already know, Amazon hijacking reduces your chances of winning the buy box and seeing the results of all the work you put into building your private label brand.

Nothing messes with your customer reviews as quickly as a hijacked listing. This person who hijacked your listing is most likely selling an inferior version of your product at an unreasonable price.

While customers may be attracted to buy from the hijacker, the products will be sub-standard and customers will be unsatisfied. Who bears the brunt? You! Customers will leave bad reviews on your listings.

What do bad reviews do to you? Multiple ripple effects can come from just one bad review. Amazon listing hijacking can ruin customers' trust in your brand and zero your chances of getting any conversions.
Related: How to increase Amazon product reviews
Amazon listing hijacking is a big deal, and the possibility of your Amazon listings getting hijacked is one major concern Amazon sellers (especially those who sell private label products on Amazon) have. 
How to tell if your Amazon listing has been hijacked
Now that you know what Amazon Hijacking is and why you should secure your listings from it, how do you tell when your listings have been hijacked? Here are a few telltale signs:
Two or more offers on your listings. Having multiple sellers under one product listing especially when it's a private label product is one surefire way to tell when a listing has been hijacked. See the image below for what a hijacked listing looks like.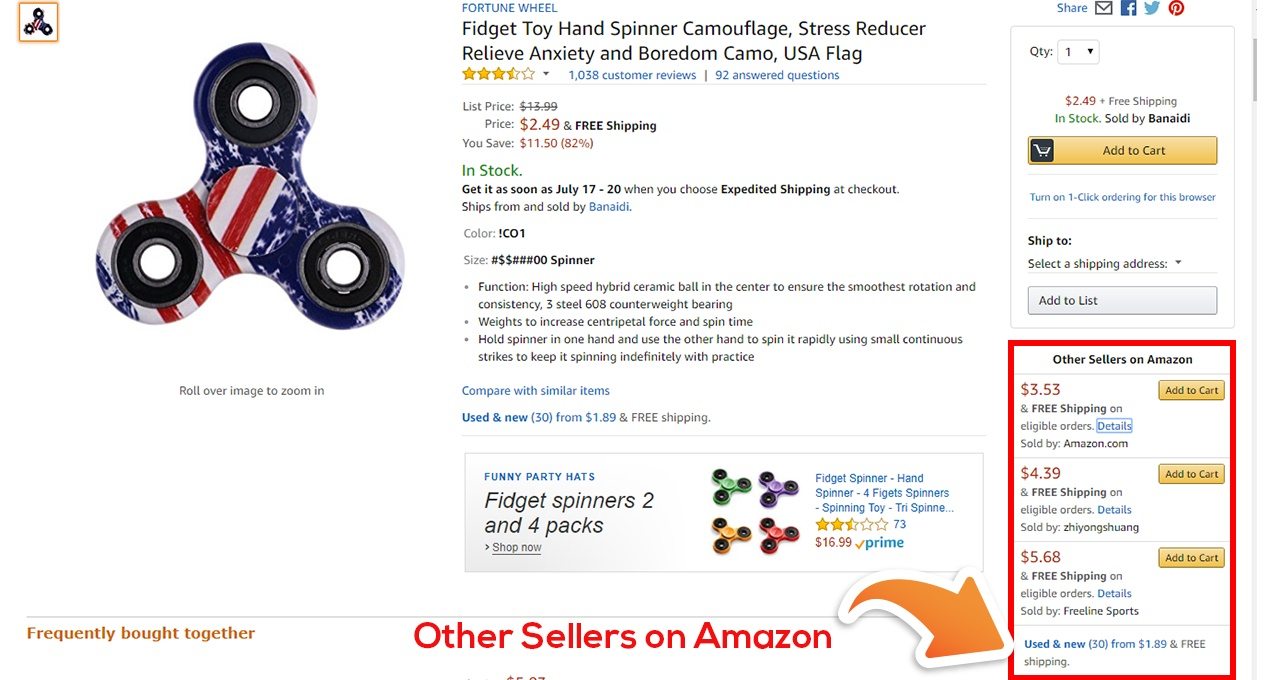 Now you know what the problem is and how to identify it when it happens, but how do you prevent this from happening? After all, you're better safe than sorry. Here are 7 tips to help you stay safe and prevent your listings from getting hijacked.
Amazon Hijacking: How to Secure your Amazon listings 
Keep an eye on your listing
If you want to secure your listings, you need to take the time to look at them from the perspective of your customers. Check out your listing to find out how many people are selling your private label product. 
If there is more than one seller, (the only seller should be YOU), then your listings have been hijacked. It's not necessary to check your listing every day – a weekly check will suffice. 
Lower your pricing
The next thing to do once you see that your listings have been hijacked is to lower your pricing. Why? There is a high chance that the hijacker has fixed his version of your products at a lesser price and won the buy box.
To win the buy box back, regain your customers and prevent further damage, it's best to lower your price to protect your sales information. You may not make as much profit as you normally would, but it's your best bet in this situation.
Related: Amazon Pricing Strategy: How to price your products on Amazon
Establish your own sales channel
Being 100% dependent on Amazon may not be the best decision for your business. If you can, build your own eCommerce website, this provides better protection from Amazon hijackers.
Improve your branding
If you place better branding on your product listing and display a distinctive logo on your product and packaging, you may deter pirates from stealing your products. It is important that you make it easier for customers to differentiate your authentic products from inferior products.
If you have never considered making your logo and branding more conspicuous, now is the perfect time to make it impossible for customers to miss your brand identity.
Brand Registry
One of the best ways to protect your brand and your identity on Amazon is to join the Amazon Brand Registry. You will not only have access to incredibly effective marketing tools, but you will also have greater control over your listings. 
Amazon's Transparency Program also enables brand registered sellers to utilize its serialization service, which enables Amazon to authenticate each of your items before it is shipped to the customer. Authentic products are then delivered to the end-user. 
Bundle your items
Following all the items listed above may not completely deter Amazon hijackers but here's one last thing to try before resorting to Amazon. Bundling your items simply means combining two dissimilar items or find a way to make your products stand out when they're ordered. For instance, if you sell baby strolls, you can bundle this item with a high chair. 
Customers will be more likely to buy from you, and the hijacker is more likely to desist because this means more work for him. This may be more work for you too, but if you go this extra mile it may save you extra stress later.
Report the Hijacker to Amazon
First, you can write a letter to the imposter asking them to take down their listing. 
Here's a sample letter:
"Hi, I'm Rosemary Hammond, and I run The Happy Place brand. We are a member of the Amazon brand registry, and you currently appear on one of our listings as a seller of our product. We do not wholesale to other brands or sellers on Amazon. We're asking that you take down your offer, as it would be in your best interest too. Please find attached a screenshot of the product in question.
Amazon will be notified in 24 hours.
Thanks,
Rosemary Hammond
For The happy place."
If the hijacker fails to do the needful, the next step is to report the hijacking to Amazon. Amazon has clear policies that reflect its stance on such issues. You can access Amazon's Anti-counterfeiting Policy in Seller Central's help files.
There are two ways to file a complaint:
Notify Amazon
In the event of a report or complaint, click "notify us" and it will take you to Amazon's report infringement policy, then you can file an infringement claim. Amazon will remove the hijacker within 24 hours and you will receive an email notification to that effect.
The email usually looks like this – "…seller listing you identified…appears to have been removed from Amazon.com. We hope this resolves the issue."
Get someone (a friend not a relative) to buy the product and file an A to Z claim to Amazon
Here's all they need to do:
Purchase the product and wait till it's delivered

Tell your friend to complain to the seller through Amazon "Report a Problem"  that the item is fake. Select the option "not being materially the same".

Wait for 24 hours and then file an A to Z report against the counterfeit seller

Make sure they emphasize the word 'FAKE' while laying the complaint

Amazon will take down the hijacker's listing within a few days.
A downside to Amazon selling is dealing with hijackers. People will inevitably take advantage of others' success to turn a quick buck. However, your listings should be more secure with these tips.