As Amazon is continually evolving, the chances of running a successful business on Amazon are becoming higher. E-commerce businesses saw an escalation in 2020 as the majority of the consumers opted for online shopping. Thus, there are a lot of opportunities for e-commerce entrepreneurs to unveil this market segment.
Amazon is among the most renowned online marketplaces with colossal opportunities. If you are planning to become an Amazon FBA seller, then you should check the top reasons why most Amazon FBA businesses fail and avoid them.
5 reasons why people fail with Amazon FBA business
False Expectations 
Many people expect Amazon FBA business to be a get-rich-quick scheme or want to be a millionaire overnight. The mindset is the reason that will lead you to failure. Amazon FBA business needs real effort, time, multiple failures, and many strategies to be successful.
Lack of Data 
The more data you have to develop your strategies on the more the chances of your success will be. Right from selecting your winning product requires real data from Amazon of what is selling well on Amazon, competitors, and everything that you can easily find using online softwares. Always rely on data instead of taking emotional decisions.
Building One Man Army 
Yes, you can definitely start your Amazon FBA business all by yourself and handle everything. But, at some point, you would want to grow and scale your business to the next level. Because being a single person handling everything there is some limit to the growth that you can bring to your business. You will become overworked, running out of strategies, and eventually, your business will suffer. So always keep in mind to leverage multiple minds for your own business.
Lack of Investment
Do you think businesses only require initial investment just to get started? Then you are wrong. At every step, you need to put investments in your business if you are hoping to build a sustainable Amazon business. Investments can be in terms of learning a new skill, resources, expanding team, and more. AmzDfy or Amazon Automation service is the perfect example where you can leverage the skill of experienced and leading Amazon sellers to run and scale your Amazon business.
Lack of Learning
Success in any field of life is brought by the 80/20 rule where 80% is the mindset and 20% is mechanics. It always comes down to the way you think, how you handle failures, how you never give up, and has what it takes to get success.
How to sell on Amazon the right way?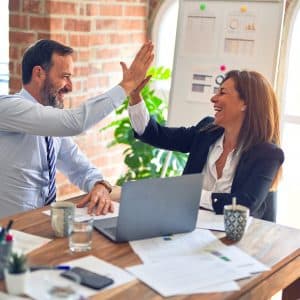 Amazon offers multiple programs for sellers to get started with this amazing platform. You can choose to sell multiple products from various business models. Here is a detailed step-by-step guide for you to sell on Amazon.
First, you need to choose from different business models. Whether you want to sell private labeled products, operate as a wholesaler, or step into online arbitrage, the choice is all yours. 

After you have decided on the business model, the next step is to choose a fulfillment method. You can either opt for Fulfillment by Amazon (FBA) or Fulfillment by Merchant (FBM). By choosing Amazon FBA, you will be freeing yourself up from all the hassles of handling and dispatching orders and returns. Amazon FBA sellers can easily focus on bringing more orders, while Fulfillment by Amazon (FBA) will do the rest for you. 

If an Amazon FBA seller chooses an individual plan, it will cost $0.99 per item sold. On the other hand, the professional program comes with a fee of $39.99 per month. 
The next step is to hunt and choose the product that you want to sell on Amazon. Make sure that the shortlisted product has enough demand. Amazon FBA sellers should choose lightweight and small products that bring maximum profit while saving on the Amazon fees.  

After that, you should register your account. Keep all the required documents like a valid ID card, business email address, a chargeable credit card, tax information, address details, and a valid phone number. You will need these documents to successfully set up your account.  

The next step is to create product listings. While you are listing your products on Amazon, you should use relevant keywords to bring more organic traffic to your store. Search for competitors' keywords and use them to create catchy titles and descriptions. 

Now you need to market your products on various social media platforms, or you can also start writing blogs to give more information to the consumers to help them make an informed decision. 

If you are thinking that now you are done, you are making a big mistake. You need to do rigorous marketing to attract customers to your products. After you have got the first client, the most crucial step is to follow up and get the feedback. Most consumers rely on feedback from previous users to get an idea about the quality of the product. 
The Verdict
By choosing one of the world's biggest marketplace to sell the products online, you will get access to the already built customer base. As millions of people are using Amazon these days, you can enjoy the perks of being a member of this amazing marketplace. No matter if you choose Fulfillment by Amazon (FBA) or Fulfillment by Merchant (FBM), the responsibility of creating product listings,  marketing your store, and attracting consumers are on your shoulders. If you want to sell on Amazon successfully, you should follow these steps to make sure you don't miss anything. Besides this, dedication and patience are the keys to be a successful Amazon seller.