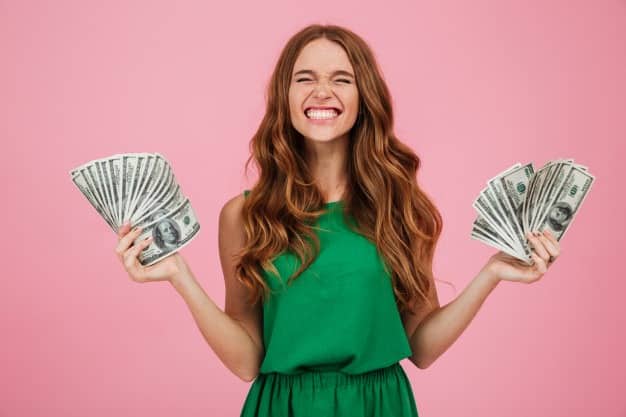 Who doesn't like the idea of earning money online while sitting at home? It's a dream everyone has, and it's becoming easier to make it a reality by the day! There is a huge possibility that you are one of the thousands of people who constantly surf the internet looking for tips on "How to make money online". Look no further, in this post, we will show you how to make money online as a broke beginner, with little to no capital investment.
In fact, making money online in today's world is kind of like magic. You can start with zero investment and be your own boss. Watch this video.
Today, we will talk about how you can leverage mainstream media and other incredible platforms for yourself to claim your piece of pie for free. Here are some of the best ways to make money online in 2021:
1. Click Funnels
Russel Brunson's Click Funnels provides a lucrative affiliate program for everyone. It is paying out millions and millions of dollars every single month in affiliate commissions and their affiliate program is making lots of people very rich.
In order to unlock this potential and benefit from it, you have to understand the Click Funnel and all the opportunities they provide. If you are serious about making money online and having that passive income coming, then this is the best platform for you.
Before proceeding further, let's just understand what a Click Funnel is. Click Funnels provides a system to build out your landing page. It allows you to integrate your landing page with email providers, payment processors, drop-ship stations and many more with just one click
How To Make Money Online Using Click Funnels
One Funnel Away Challenge
With "One Funnel Away Challenge" you can earn $100 for a $100 which is a 100% commission rate. For every person who registers to the challenge after a 30-day free summit through you, you will be given $100.
If you're wondering how to find people who are interested in registering for this challenge, here some ideas to consider.
The first way is inside the Click Funnels official group. There are over two hundred and eight thousand people who've already expressed that they're interested in Click Funnels. If you type 'one funnel away' into the search bar, you'll see a bunch of different posts and comments about this. However, remember to NEVER post your affiliate link in this group.
Also, if you see people asking questions about the one funnel away challenge, you can send them a direct message and explain how the one funnel away challenges works and the 30-day summit works As some people get confused
Some people are confused about the difference between the 30-day summit and the one funnel away challenge. You can just be helpful in responding to comments. You may message every single one of those people and when they register you will make money through your affiliate link.
Promote Click Funnel Using YouTube Or Blog
If you have an existing email list or you know how to grow a website or youtube channel. The best option for you is to join the Click Funnel affiliate marketing program. Through this, you can earn money without having any actual product or service.
How does this work? You can start creating blog articles or YouTube videos promoting Click Funnels and its products. Click funnel other products are Dotcom Secret Book, Expert Secret Book, etc. You can produce content like, how to get started with Click funnel and create your own landing page, why you should use Click Funnels, etc.
With every content what you need to do is include your affiliate link to the Click Funnels website which you will get after signing up for the program. Each time someone clicks the link and signs up for it, you will get a 30% recurring commission.
You can also use few course for social media such as Facebook ads course to promote it and make money. What are you waiting for? Start now, go through their training and learn how everything works. You can also join their Facebook group where you can be in contact with other marketers and know what they are doing.
2. Monetize Your Knowledge
Making money online is not restricted to click funnels. As a matter of fact, anyone who is interested in learning how to make money online, may tire out quickly from being overwhelmed with too many options on the internet. One of the most effective ways to make money online is to start with what you have.
You can make money online sitting right in the comfort of your home, but you will still have to do something. Good thing is that you do not have to go out of your way to make this happen, simply monetize your knowledge. Are you an expert in any field? Do you have in-depth knowledge about any subject and are willing to share with others?
Chances are that there are a million other people who would be willing to pay for your knowledge. How to make money online by monetizing your knowledge? Here are a few ways to do that:
Create digital courses
Write a book
Offer online coaching
These are a few ways to make money online by sharing your knowledge with others. Making money online by monetizing your knowledge may not be a walk in the park, especially if you are a beginner. You will need to learn the best strategies on how to make money online doing this, how to reach your target audience and get them to pay for your knowledge. Kevin David's Digital course secrets will show exactly how to do these and more.
3. Become An Affiliate
You can earn money when you promote a company's products and services and drive a sale through affiliate marketing. You only get paid every time you drive a sale, you don't need to do anything else asides getting people to pay for whatever products or service you decide to sell.
You don't need to create a product or be at the forefront of providing the service, you only sell and make a commission from each sale. So, how much you make will depend on how much sales you're able to drive.
How to make money online from being an Affiliate marketer?
Find an Affiliate program that works for you
Check out their products, services and the commissions they offer
If you like what you see, sign up to become an affiliate.
Once your application is confirmed, you will most likely get a referral link that will help the company keep track of every sale you make, ensure you use this link.
Next thing is to use social media ads, blogs, and other platforms to promote your affiliate links and whatever product or service you choose to sell.
Becoming an affiliate has to be one of the easiest ways to make money online doing next to nothing.

Conclusion
Your search for how to make money online ends here, in this post we have made simplified the process of earning passively with little to no capital. Now, you can sit back and earn even while you are asleep. Passive income at its best!
[/et_pb_section