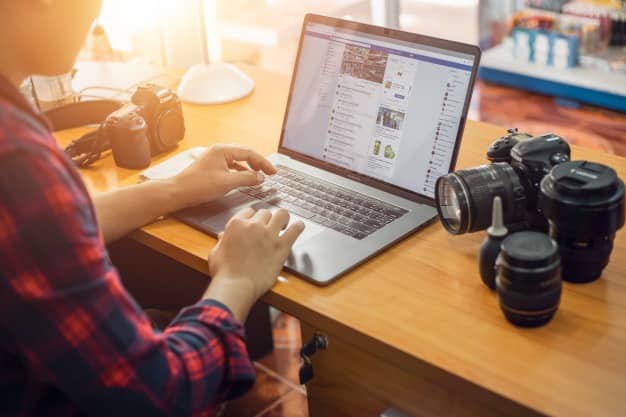 As of December 2019, there are over 2.50 billion monthly active users of Facebook.
90 million small businesses around the world have their Facebook pages.
86.8% of US marketers are using Facebook marketing in 2020.
These are some Facebook statistics for those who doubt if it's worth advertising your business on this platform or not.
If you are totally new to Advertising on Facebook, use this article as your guide also learning from facebook Ads course is an advantage. You can also check this video below to gain more understanding.
Why Advertise On Facebook
If you are only using social media for organic results for your business, then you are missing out on its full potential.
Here are some points to consider to know why Facebook is the best option to advertise for your business:
Most of your potential customers are using Facebook on a daily basis. It is found that people spend an average of 40 minutes on this platform.
The budget is under your full control, you can enter the amount you want to spend and the Facebook Ads will run accordingly.
Facebook gives you the great benefits of reaching the most targeted audience. Your ads will be showing only to your potential customers if you set the targeting right.
Facebook advertising gives you fast results, you can reach hundreds of thousands of people in one day or one week according to your each day budget.
It also increases brand awareness and establishes your social authority along with increasing revenue, sales, and leads.
Facebook allows you to create Video ads that grab more attention from people.
If you want to increase your email list for your business, Facebook advertising is the best option for you.
Types Of Facebook Ads
Image Ads
Image ads are the most simple ads of all types. You just need a high-quality image that clearly displays the idea behind the goal of your Ad. You can create an Image Ads in two steps by boosting your post on Facebook.
Make the Images interesting and creative that attracts your customers. As you are using Image, you should make sure to make your Ad Copy appealing.
Video Ads
Research has found that Facebook video ads do better compared to other types of Ads. You can create videos to show your product, brand or company.
Create a short and informative video. But, a GIF or animation will also work well if you add a little creativity to it.
Carousel Ads
Carousel Ads can show multiple images, up to 10 at a time. It is mostly used by the eCommerce industry to showcase their products. You can show different products at a time each with their own website links.
Slideshow Ads
You can create slideshow ads from images, or short video clips. One benefit of using slideshow ads over video ads is that it uses five times less bandwidth. So, people with a low internet connection can also watch it without any interruptions.
Video Poll Ads
As the name suggests it is a video ad asking viewers to answer the poll. Video poll ads are mobile-only Facebook Ads. Since it needs engagement from people, it works better than Video ads in increasing brand awareness.
Lead Generation Ads
Facebook lead ads allow you to collect leads by getting information from your potential customers. You can collect information from customers using the contact form or instant form from Facebook, or you can also create a landing page. Check this page to get more information about Lead Ads.
Dynamic Ads
Facebook Dynamic Ads allow you to create personalize your ads without any manual work. You can customize your ads to promote your products or services to the targeted customers. This ad gives you the option to target those customers who have visited your product page but don't purchase it or added the product to the cart but abandoned it.
Messenger Ads
Facebook allows you to create ads and edit the placements of the ads. If you choose the placement for messenger then your messenger ads are created which will give you access to 1.3 billion people.
Facebook also allows you to run click to messenger ads where you can create a call to action that opens up a messenger conversation.
Stories Ads
Story Ads is another type of placement ads which allow you ads to be visible on your customer's Facebook or Instagram story.
Facebook Ad Specs
Facebook has some rules and policies that you have to strictly follow while creating your Ads. Facebook keeps changing the Ads specs for different Ads like specs for Images, videos, etc. Click here to check specifications for different types of Ads.
How To Use Facebook Ads To Promote A Business?
To get you started with your Facebook Ads to promote your business we have compiled the whole process in 4 steps:
Create Your Business Page, Ad Account And Set Up Business Manager
You need to create a business page before starting any Facebook advertisements. Your ads will display from the page that you created and any visitor who clicks the name will land on your business page.
If you already created your business page, you can go onto the next step of creating an Ad account. An ad account is where you will be creating your Ads. Then you need to set up a Business Manager and add your ad account.
A business Manager is a tool by Facebook designed to help you manage your Ad account and Facebook page. Here are steps to creating a Business Manager.
Add Facebook Pixel To Website
You might be wondering here what is Facebook Pixel and why do you need it? Facebook pixel is a code that tracks all the customer activities on your website. You have to place the code on your website and activate it on your ads.
You can use the Facebook pixel to get some good information that can help you with creating retargeting Ads. So, it helps to get a good ROI for your investment. Not only you can create retargeting Ads but create lookalike audiences, optimize Facebook Ads for conversions, gain access to more Facebook ad tools and metrics.
You can add the Facebook pixel to the website in just two simple steps:
STEP 1 Click Events Manager on the top left corner, click Create a Pixel button. Then, Name your pixel, add your website and then create Pixel.
STEP 2 Once you have created Pixel, again go to Events Manager, Go to Pixels, click set up pixels, then go to manually add pixel code to the website. You will get a code, copy the code and paste at the bottom of the header section of your website.
Start Creating Your Ads: 
Choose Objective – Now it's time to start creating your Ads. You first have to choose the objective for your Ads. To choose the best objective you have to understand what result you want from the Ads. There are three objective types and each type has its subtypes, you can see below:
Awareness: Brand Awareness, Local Awareness, and Reach.
Consideration: Traffic, Engagement, App Installs, Video Views, and Lead Generation.
Conversion: Conversions, Product Catalogue Sales, and Store Visits.
Set your budget – Facebook gives you the huge benefits of setting and managing your daily as well as overall budget. Your ads will stop running once your budget is fully optimized. You can schedule your ads by giving the time and date from when you want it to start running.
Target your Audience- According to your product, you can select your audience. Enter the age, location, Language and other details of your potential customer. To target, even more, you have the option to choose the demographics, interests, and behaviors of your customer.
Select Ads placements- Next you have to select where you want your ads to run- Facebook feed, Facebook stories, Instagram Feed and Instagram story, Marketplace, Messenger and more.
Pick a format- There are presently six Ad formats available on Facebook. You can choose from a single image, single video, slideshow, carousel, instant experience, and collection.
Submit your Ad for review- Once you are done with everything to review your ads and then submit it. The ad will be sent for review and if approved will start running at the scheduled time.
Test, Measure And Manage Your Ad
Once your ad starts running you can track the performance and even edit the campaign if you want. Now, is the time to test with different things and find out what is working for you. Make sure you are measuring the performance regularly using various metrics given by the Facebook business manager.
Is It Worth Advertising On Facebook?
The answer is yes it is worth advertising on Facebook. If you know how to leverage the platform to its full potential, you will get results for sure. If you miss reaching your target market you will end up losing your money in showing ads to people who are not at all interested in your product.
Facebook has stored a lot of data about all its users for years. It knows how every user behaves and what their interests are. You just have to give direction to Facebook through your ads and the rest of it Facebook will do on its own. So, understanding your ideal customer is the most important part of getting success on Facebook Ads.
Not only selecting your target audience but making an appealing Ad copy and a great image or video contributes a big part for the success. Make an effort to understand your customer's pain points their needs and the solution to it must be shown creatively on your ads.