Making money online is one of the easiest things to do. As a matter of fact, if you decide to tow this path, you are not likely to run out of options. Most often, though, eCommerce businesses rank high on the list of ways to make money online. Amazon and eBay are the most popular marketplaces at the moment. Hence, it's usually a struggle for new sellers to choose between them. The dilemma often sounds like " Amazon vs eBay vs my website, which is the best"?
Before settling for a marketplace, be sure you want to sell online. How? Check out the numbers. Numbers are important. Keeping up with them is the only way to ensure you make the right financial decisions. Overlooking statistical data means you must rely on guesswork. This can be very costly. Here are a few statistics to help you solidify your resolve to sell online.
Amazon vs eBay vs Your website? They all have their benefits and drawbacks. So you should consider all the possibilities. But don't get ahead of yourself. You cannot make a concrete decision based on the above data. 
In this post, we will do a thorough comparison. So Amazon vs eBay and selling on your website, which should you opt for? Which option gives you the best chance of success? Let's get right into it.
Amazon vs eBay vs Launching a New Website
Amazon
Amazon is the world's largest online marketplace. The platform holds a 50% stake in the global eCommerce market. Still don't understand? Well, Amazon has over 300 million customers and 2 million active sellers. The majority of sellers on Amazon (86%) are profitable. But only 67% hit the profitability mark in their first year. (Source: prnewswire.com)
Like every other business, an Amazon business comes with its complexities. While it is possible to make a profit on the platform. It is not something you should go into with your eyes closed.
Remember when we said 48% of people who shop online head straight to a popular marketplace? Well, Amazon gets the lion's share of that traffic. So if you decide to sell on Amazon, you're on to a great start if you do it right. Still, you should consider the pros and cons. Here are some of them:
Pros
Access To A Global Audience
If your goal is to sell to a global audience, then Amazon is your best bet. People from all over the world shop on Amazon. This is because of the brand's trusted reputation. Selling on the platform automatically gives you access to leverage this trust. Apart from the general audience. Amazon also has the Prime platform. This is a paid membership platform. Prime members gain access to videos, free shipping, and other benefits. Selling on this marketplace means you can also sell to Prime subscribers.
An AMZ business is easy to start compared to other marketplaces. Setting up an account does not need any capital. Launching a business is one thing. Managing it is another. An AMZ business is not only easy to start but is also easy to manage. But this depends on the fulfillment option you decide to use.
Still, unlike every other marketplace, you have two options to choose from. You can either choose to handle all your business processes yourself. These include storage, packaging, shipping, and customer service. Or you can outsource these processes to Amazon through FBA. 
FBA means Fulfillment by Amazon. It is a fulfillment service that Amazon offers to its third-party sellers. Sellers who use this service will have Amazon handle all their business processes. So, if you want to sell online without having to do the work, Amazon FBA is perfect for you.
With AMZ, you do not have to run promotions externally. You can advertise your products right there on the platform. You can set up automatic PPC campaigns to target a broad or specific audience.
Also, you know that you are advertising to customers who are interested in your product. And you can control your advertising budget too.
Managing an Amazon business means juggling many tasks. These tasks often include product research, keyword research, and listing optimization. There are a ton of others as well. As a new seller, you are likely to struggle with executing these processes.
But this is not an issue. AMZ businesses can now be automated. How? AMZ Automation services allow sellers to outsource complex business tasks.
A team of professionals will research profitable products and relevant keywords. They will also create and optimize product listings on behalf of sellers. What if you don't want to put your business in someone else's care? 
You can also leverage AMZ seller tools to execute these tasks. With Amazon seller tools, product research, keyword research, and listing optimization can be done efficiently. These will help you get the desired results. 
Cons
Although setting up an account on Amazon is free, you will have to pay fees as you go on. Sellers who are on a budget may not be able to afford the cost. 
All your sales on Amazon are subject to a referral fee, which ranges from 8%-45%, depending on the product category. Ensure you factor in all Amazon fees before starting. If you don't your profit margin may suffer for it. You can use the Amazon FBA fee calculator to get an estimate of the costs involved.
Check out the breakdown of FBA fees here.
This marketplace does not just have an influx of customers. It boasts over 2 million sellers on Amazon. Thousands of new sellers sign up to join the platform every day.
Showing up on page one is important. But it is almost impossible if you don't have the right tools and strategies. A huge part of your success on Amazon depends on whether you choose your products right. Your keyword selection and listing optimization game must be top-notch.
There's so much involved in scaling an AMZ business. And it can come with a lot of pressure, especially for new sellers. Still want to sell on AMZ? Be ready to fight for your slice of the pie.
There are so many guidelines and restrictions to take note of if you want to sell on Amazon. It can be overwhelming if you are new to the marketplace. It can also be scary because sellers who fall victim usually have to forfeit their accounts.
Some product categories are also restricted and require approval before you can sell products that belong there. Trying to stay off these categories so you don't lose your account can be exhausting.
eBay
eBay has its place right next to Amazon on the list of most popular marketplaces. Hence, the comparison "Amazon vs eBay". In the real sense, eBay is not half as popular as AMZ. The platform only has about a 6% stake in the eCommerce market. Even though this is still a significant amount, it is considerably less than Amazon's.
If you're doing a thorough Amazon vs eBay comparison, then you should not leave this out.
Pros
Although eBay's fees are subject to change and reviewed from time to time, the chances of them going overboard are pretty slim. eBay fees vary depending on the item you're selling. They typically range from 3.15% to 9.1%. You are paying a fraction of Amazon's fees, which can have a substantial impact on your bottom line.
Seeing as eBay is not as popular as AMZ, it is only normal that the competition there is lesser. There are fewer sellers, so you have a higher chance of success on the platform. If you choose the right products and craft your brand to suit the platform, you can rack in a lot of sales.
Unlike Amazon, there are fewer restrictions on eBay. Sellers have a better chance of standing out on eBay because the rules are relaxed. Make the most of it!
eBay allows you to sell either brand new or used items. Most marketplaces, including Amazon, only allow sellers to list brand new items for sale.
This is an advantage for sellers who do not have enough capital to source new products. So, if you have used items that you would like to sell off, eBay is the ideal place for that.
Cons
Smaller Customer base: eBay does not have as many customers.

The auction style on eBay can put your profit margin at risk. This is because buyers get to decide how much they want to buy your product. 

Fulfillment can be more complex. If you want to sell on eBay, you will have to put structures in place for fulfillment. This can be cost-intensive, especially for new sellers who are on a budget.
Selling on Your Website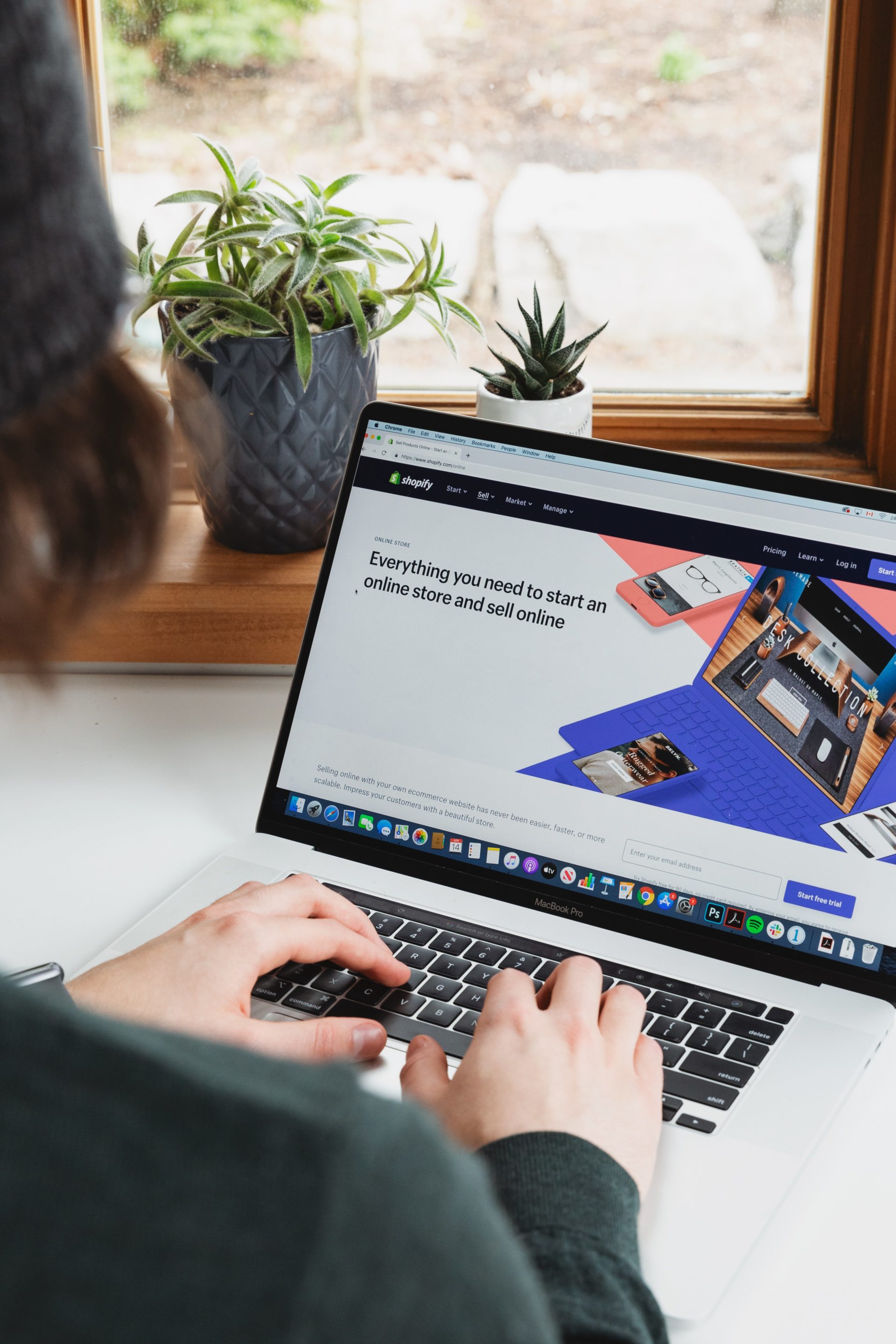 Now, you have an answer to your Amazon vs eBay question. But you may wonder if you have to sell on either of these platforms.
Selling on a marketplace could get in the way of building your brand. Hence, the idea of launching your own website may seem more attractive as you go along. While it may not be an entirely bad idea, it may also not be the best move for your business. Let's help you make a decision:
Pros
Your website is the best place to build your brand. This way, if you get kicked off from any of the other marketplaces, you do not have to lose all your customers.

Selling on your website will not require you to pay so many fees. 

You are in full control. You can take off or add features as you wish. 

Freedom to craft your policies to suit you.
Cons
Unlike already popular marketplaces, you will have to drive traffic to your website on your own. This can be difficult especially if you haven't already built a reputation.

You're likely to spend more on advertising.

Although you may not have to pay fees, the cost of launching your website can be a lot.
Conclusion
Choosing a marketplace is an important aspect of selling online. Amazon vs eBay? Which is it for you?
Selling on Amazon is the best choice for you. Especially if you are a new seller and cannot handle all the complexities yet. 
Regardless of the marketplace that you decide to sell on, you will still have to find profitable products. Keywords and listings are also very important for visibility. So pay attention to all business processes.
Also, focus on customer retention. If you choose to sell on your website, ensure you give customers a great experience. This is the only way you can get them to come back.
Now that you're armed with all this information, it will be easier to come to a conclusion. Make a choice now, and be ready to put in the work.