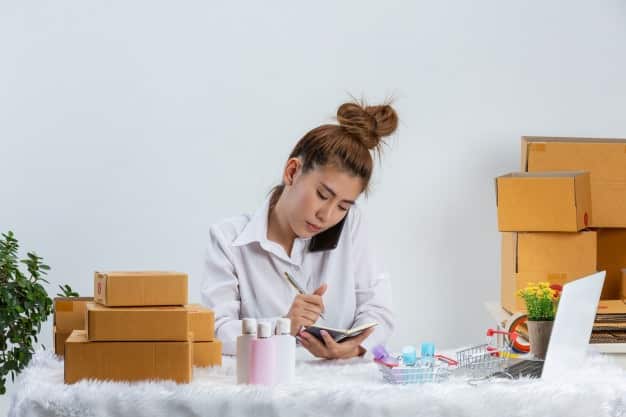 Amazon has become the definitive e-commerce platform on which to sell products. According to a survey conducted by Survata, roughly nine in 10 consumers search for products on Amazon. But if you're hoping to cash in on Amazon's unparalleled level of popularity by selling your products on the platform, you should strive to win the coveted buy box.
Table of Content
Tips to Win Amazon's Buy Box

Upgrade to a Professional Sellers Account
Use Fulfillment By Amazon
Sell New Products
Maintain a Low Order Defect Rate
Offer Low Pricing
Ship Products Quickly
What Is The Buy Box?
The buy box is an area on the right side of certain product pages that allows shoppers to add the listed product to their cart or, if one-click purchasing is enabled, purchase the product. When a shopper purchases a product through the buy box, the seller who's won the buy box generates the sale.
While the exact number is unknown, an article by Entrepreneur estimates that Amazon has more than 5 million sellers. Many of these sellers compete against each other by selling the same product. But when two or more sellers compete for the same product, only one will be chosen by Amazon for the product's buy box. Others will be listed under "Other Sellers on Amazon."
Amazon may rotate sellers in the buy box. If three reputable, high-performing sellers are selling the same product, for example, Amazon may evenly distribute their buy box time by one-third. Amazon may also place itself in the buy box if it sells the same product as another seller or sellers. Regardless, however, shoppers will only see a single seller listed in the buy box on any given product page.
The Benefits Of Getting Your Products Listed In The Buy Box
You can still sell products on Amazon without reaching the buy box, but you'll generate far more sales if you're able to win it. According to Amazon, more than four out of five of all purchases are made through the buy box.
The buy box also increases your business's visibility and recognition. Even if a shopper doesn't purchase your product through the buy box, he or she will still see your business's name listed here. Considering that Amazon attracts more than 200 million unique visitors each month, the buy box will expose your business to countless consumers, some of whom may purchase from your business in the future because they remember seeing it listed in the buy box.
Tips To Win Amazon's Buy Box
Upgrade To A Professional Sellers Account
Amazon won't place sellers with an Individual account in the buy box. Therefore, you'll need to upgrade to a Professional Sellers account. Amazon charges a monthly price of $39.99 for a Professional Seller account, but you won't have to pay a closing fee for each sale like you would with an Individual account. To upgrade your account, log in to your Amazon Selling Account and access your account settings page. You'll see your current account type listed here, which can you can click to modify and upgrade to a Professional Sellers account.
Use Fulfillment By Amazon
Although it's not an eligibility requirement, using Fulfillment by Amazon (FBA) will increase your chances of getting listed in the buy box. With FBA, you'll still sell your products, but Amazon will fulfill the orders by packaging and shipping the purchased products to your customers. You ship products to the Amazon FBA warehouse, and when someone purchases one of these products, the e-commerce giant will package and ship it to the customer. Amazon offers free two-day shipping on all products sold through FBA.
Sell New Products
Until recently, only new products were eligible for the buy box. But while Amazon now allows both new and used products, to be listed in the buy box, you should focus on selling new products. Even if you win the buy box with a used product, Amazon may choose another seller as the default purchasing option if that seller offers the same product in new condition.
Maintain A Low Order Defect Rate
Try to keep your account's Order Defect Rate (ODR) below 1 percent at all times. Found under Account Health > Customer Service Performance > Order Defect Rate in your Amazon Selling Account, this metric reveals the satisfaction of your customers. Your ODR is calculated based on three factors: rate of negative customer feedback, rate of A-to-Z Guarantee claims and rate of credit card chargebacks. Allowing your ODR to creep above 1 percent will prevent you from winning the buy box. If it climbs high enough, Amazon may even suspend your account, preventing you from selling on its platform.
To improve your ODR, sell high-quality products and make sure they are in good condition when shipped. A customer may leave negative feedback, request a credit card chargeback or file an A-to-Z Guarantee claim if he or she isn't satisfied with an order, all of which can increase your ODR and subsequently hurt your chances of winning the buy box.
Offer Low Pricing
The price at which you list your products for sale will affect your chances of winning the buy box. To provide shoppers with the best possible experience, Amazon typically displays the seller who offers the lowest price in the buy box. If you sell a product for $100 but another seller offers it for $80, Amazon will likely choose them for the buy box.
Ship Products Quickly
If you're going to fulfill orders yourself rather using FBA, ship purchased products to the customer as quickly as possible. And if you take the FBA route, make sure that Amazon's FBA warehouse has an adequate supply of your products to fulfill customers' orders. If the FBA warehouse runs out of your product but still has units of the product from another FBA seller, the buy box for that product will likely revert to the other seller.
There's no magic formula to winning the buy box. Amazon hasn't disclosed the exact formula it uses to select sellers for a product's buy box. However, upgrading to a Professional Sellers account, using FBA, selling new products, maintaining a low ODR, offering low prices and shipping products quickly can help you win this coveted spot.