Are you considering starting an Amazon FBA business, but finding it hard to decide on Amazon software? In this post, we will show you 3 success stories and what their journey to success was like. Through these stories, you will see what results are possible on Amazon, and how these people achieved theirs.
Amazon Seller Success Stories: #1 Melissa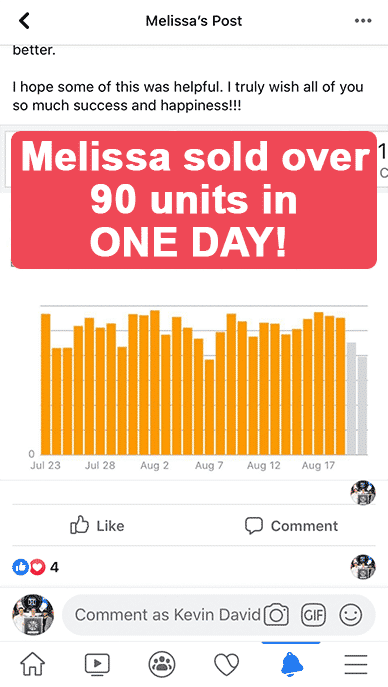 She sold over 90 units in One day
Melissa didn't start off like this, the journey to success took about two years, but she achieved this feat as a mother to two kids, struggling to earn an income online. You too can do it if you learn from Melissa. Read her story here: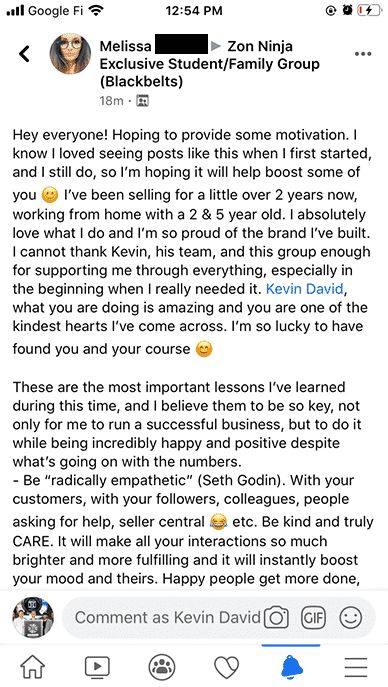 What was the secret to Melissa's success?
Stay Positive
Business management can be stressful, especially when hard work doesn't translate to results. However, staying positive helps you stay persistent. Optimism is the key to running a successful business, so be incredibly happy and positive regardless of what the numbers are saying.
Be Empathetic
In running an Amazon business, empathy is an important trait you must possess. Bad reviews say a lot about your brand and the only way to get customers to come back and give you good reviews is to be empathetic. 
Pay attention to your customer's needs and genuinely care about providing the best service and items. 
Amazon Seller Success Stories #2: AI
AI went from selling 27 units to selling 109 units in one day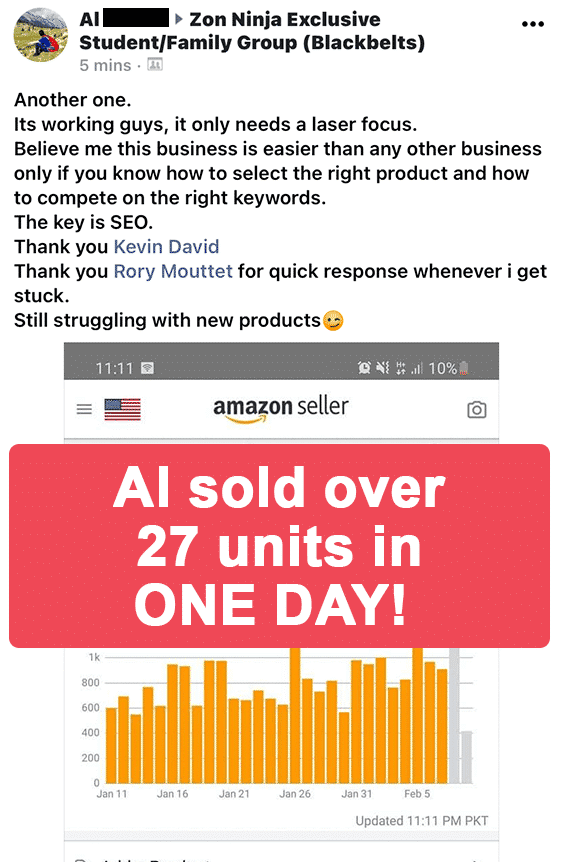 AI's story is one of persistence, hard work, and patience. When he first started, he made only 27 orders, and he went from that number to a whopping 109 units in one day! See his story here: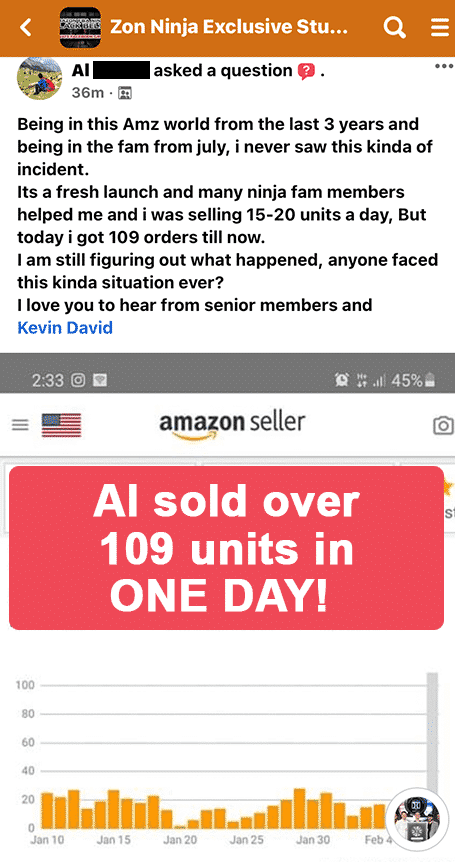 AI's success story shows how much work goes into achieving these kinds of results on Amazon, and most of the time you need expert assistance to help you scale your business to this level. Here are a few things to take note of:
Amazon is not a get-rich-quick scheme
Making money online is not as easy as it sounds. Some people assume that Amazon businesses yield so much profit instantly, what they don't see is the commitment, patience, and time it takes.
It took AI 3 years of selling on Amazon to achieve these results, it might take longer or shorter than that but it is not impossible to live your dream life just from running an Amazon business.
Expert assistance makes all the difference
AI struggled on Amazon for 3 years and he only started making sales on Amazon after he joined the ZonBase team.  ZonBase not only gives you access to Amazon seller tools to help you achieve the results you desire, but you also gain access to expert assistance and knowledge. 
Amazon Seller Success Stories #3: Johnny
He sold over 2,447 units in one month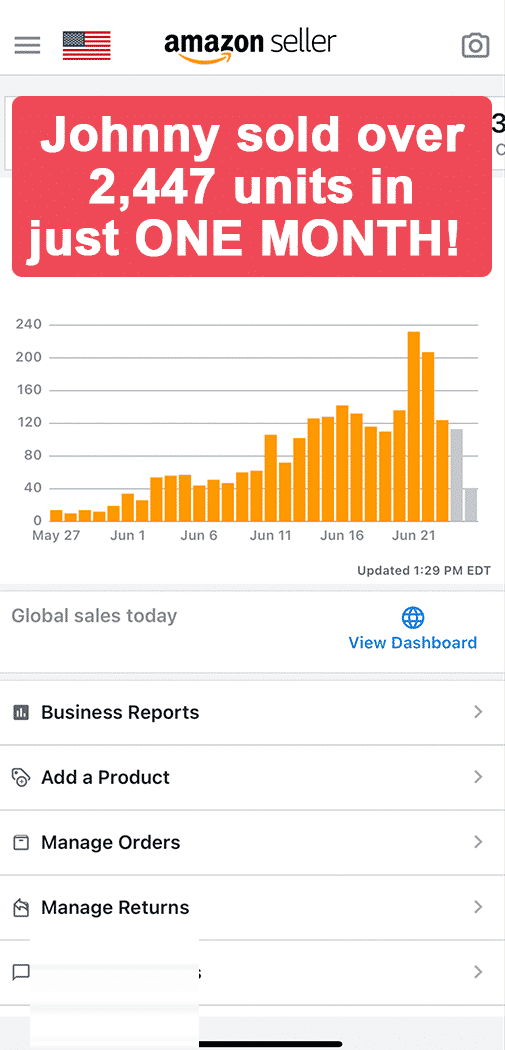 Johnny 2,447 units in one month. This could only have been possible with the best Amazon software, ZonBase.
Hitting milestones on Amazon requires a lot of commitment, time, and patience. Wondering how Johnny, Melissa, and AI achieved these results on Amazon? 
You too can be the next success story, here are a few tips to help you become the next Amazon success story:
How to scale your
Amazon FBA
  business
Scaling your Amazon business requires four major steps that all work together.
Launch more products
It's no secret that every Amazon seller focuses on a niche, but how can you pick the most lucrative niches? Choosing a profitable niche can be very challenging, but even more challenging is the product research process. 
Your sales on Amazon are determined by the demand for your products, so you need to pick products that sell well. The process of selecting the best products is almost impossible without help. 
When it comes to Amazon software, ZonResearch by ZonBase is the best tool for helping you do your product research. It will help you save time, but it will also help you identify the best products for your store. 
Use relevant keywords
Have you ever wondered why your products don't appear in search results? The importance of keywords to your Amazon business cannot be overstated. Researching Amazon keywords is best accomplished by researching your competitors' keywords and finding out which keywords they are ranking for.
It is imperative that you conduct effective keyword research, and Amazon software offers the simplest way to research relevant keywords for your Amazon store. The best Amazon seller tools for keyword research are available on ZonBase. There is no doubt that its combination of keyword research tools will be beneficial to your business.
Optimize your product listings
Optimization of product listings can positively impact ranking, click-through rates, and conversions. Amazon product listings play a major role in determining how many sales you make.
Optimizing your listings for Amazon SEO may require adjustments to titles, images, features, descriptions, and keywords. Knowing what your competitors are doing will save you from a lot of stress, but is it really necessary to look at each competitor individually? No, of course not.
ZonBase's listing optimization tools, Listify and Listing Optimizer, will help you gain a competitive advantage over your competitors.
Use high-quality product images
Low-quality product images may just be why visitors are not purchasing your products. In order to convince people to purchase your products, product images are essential. 
ZonBase's collection of Amazon tools includes a photo enhancer that simplifies the process of creating amazing product images in just a few seconds.
ZonBase is the best Amazon software for all your Amazon seller needs. Johnny, Mellissa, AI, and thousands of other Amazon sellers have used this software to scale their businesses, you can be the next Amazon success story. 
ZonBase will take care of your Amazon business processes like Product research, keyword research, and listing optimization, but you still need to pay attention to other parts of your business. Building credibility and gaining customer's trust is crucial to making sales on Amazon, so how do you do this? Here are two things to focus on as an Amazon seller.
Get more reviews
It is no secret that Amazon is heavily driven by reviews, and of course, they can influence customers one way or another. However, customers aren't only concerned with the final score of the reviews. The quality and quantity of feedback are equally important. 
Good customer service is a great way to get good reviews and returning customers, every Amazon seller needs this. It is crucial to follow up with customers after an order has been made to ask them for a review. You should focus more on the quality of your feedback than just requesting quick star ratings. 
Be Accessible
Customers often encounter difficulties contacting Amazon customer service if they have a problem. Lack of contact information on a website is another reason for customers to leave without making a purchase.
Customers who make their first purchase are at ease knowing they can get in touch with a "real person" if they have questions. Provide contact information on your product description so customers can contact you directly, whether it is your website, email address, live chat option, or phone number.
Conclusion 
You too can become a successful Amazon seller and share your journey on our Amazon seller success stories. Our Amazon FBA course is great to give you the proven methodology to outrank your competition on Amazon. ZonBase is the best Amazon software to scale your Amazon business. Join the league of top Amazon sellers today, sign up here.