More and more people are opting for online shopping instead of in-store shopping. Hence, the eCommerce industry has grown exponentially. This is not only about the number of shoppers, but sellers as well. Almost everyone wants to start an eCommerce business. 
When it comes to online marketplaces to sell on, the options are limitless. As a result, online sellers experience a lot of confusion. If you decide to start an eCommerce business, you can't run out of options. But, the challenge often lies in choosing the best online marketplace to sell on. New online marketplaces are discovered daily. But only a few can help you achieve your financial and business goals.
In this post, we will provide a list of the top 7 online marketplaces to sell on in 2022. But, first, what are online marketplaces and why should you use them?
What Are Online Marketplaces?
Online marketplaces or eCommerce websites are platforms that allow third-party sellers to sell their goods and services to consumers online. Sellers who want to start eCommerce businesses will need to put a structure in place for sales. This is where eCommerce websites come in.
Some marketplaces display a variety of products. In contrast, others focus on a particular niche. Starting an eCommerce business is not complicated. But, picking the right marketplace is a crucial part of it. We have listed some factors you should consider when choosing a marketplace.
Factors To Consider Before Choosing An E-commerce Platform
How easy is the sign-up process? Can you meet up the requirements? When you're starting, it's best to avoid platforms that are difficult to understand or join.
You will have to pay some fees, and this is regardless of the platform you choose to use. Still, consider going for platforms that do not charge too much. This is because you run a risk of selling at a loss if these fees eat into your profit.
Order fulfillment and Delivery

:
Order fulfillment is an essential aspect of every eCommerce business. Hence, you need to choose a platform that makes this process as seamless as possible. Only a few platforms have put a structure in place to help you fulfill orders promptly.
The success of your eCommerce business depends on the platform you choose. Choose a platform that gives you room to scale your business and achieve your business goals.
Flexible Refunds and Returns Policy:
Before selling products online, consider how the marketplace handles returns and refunds. Suppliers are subject to a return and refund policy on most online marketplaces. All you have to do is ensure that the policies are flexible and not too expensive.
Now that you know what to look out for when trying to choose an online marketplace. Here's a list of the top 7 online marketplaces to sell on in 2021.
Top 7 Online Marketplaces For 2022
1. Amazon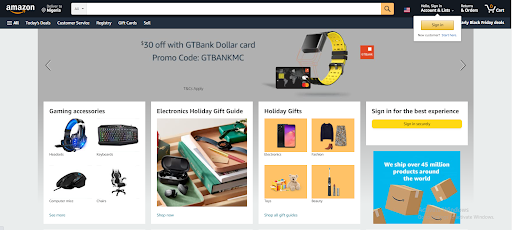 Amazon is the largest marketplace in the world. With over 300 million users and 2 million active sellers, anyone can make money on Amazon. Its customer base is a great start for you, but this is only one of the reasons why you should sell on Amazon.
Aside from its huge customer base, the platform offers room for you to grow. Amazon holds a 50% stake in the global eCommerce market, and 84% of its sellers are profitable.
Also, it is a general marketplace. In other words, you can sell almost any product you can think of. Unlike niche marketplaces that restrict categories, Amazon allows sellers to explore many niches.
When it comes to fulfillment, Amazon ticks all the boxes. There is a provision for sellers who want to outsource fulfillment to Amazon. And those who want to handle it themselves can do so. Running an eCommerce business can be a chore, especially if you have many commitments.
Good thing is, Amazon businesses can be automated. You can do this using Amazon software and Amazon automation services. Also, signing up to sell on Amazon is easy and the return policy is flexible.
It may seem as though there are no downsides to selling on Amazon, but this is not the case. Sellers who want to sell on Amazon must be prepared to face fierce competition. Amazon fees may also be expensive for sellers who are on a budget.
Related: How to sell on Amazon FBA for Beginners
2. Walmart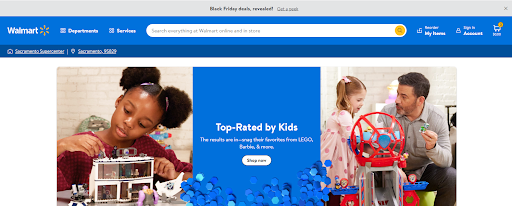 Walmart comes right after Amazon. Last year, the company earned $514 billion in revenue. Additionally, it has over 11,000 stores in 27 countries. Walmart began as a physical store but is now one of the largest online retailers.
Walmart is new to the eCommerce industry. But the platform has gained popularity and expanded over time. So, if you choose to sell on this marketplace, you have a high chance of success.
Walmart also offers a fulfillment service. This allows you to outsource order fulfillment to them. Of course, this service comes at an extra cost. Selling on Walmart is not a bad idea, but there are a few cons.
To sell on the marketplace, you'll need to apply. But once approved, you'll have access to their huge customer base. Also, Walmart's online stores do not account for a large part of its revenue. This is because the firm still has its focus on its walk-in stores. So, if you decide to sell on this online marketplace, you must be ready to put in the work.
3. eBay
Unlike Amazon, eBay started off selling used items. Now, it is one of the largest online marketplaces in the world. And this is a result of the firm's flexibility. Sellers are allowed to put up used and brand new items for sale on the website.
eBay is one of the most visited eCommerce platforms. With 689 million visits in a year, the platform promises a good amount of sales. There is no application process involved in selling on eBay. All you have to do is create an account and add your products.
You can also print your own shipping labels and run promotions on eBay.
Also, eBay has launched a new 'Managed Payments' feature. This allows sellers to manage taxes, fees, and payments in the same place.
eBay is a great choice no doubt, but it also comes with its drawbacks. For instance, eBay's auction style sometimes makes it difficult for sellers to make a good profit.
4. Etsy
The Etsy marketplace specializes in handmade and vintage items. It is a niche marketplace. Hence, sellers who do not intend to sell products in this category cannot sell on this platform. 
But if you plan to sell customized handmade items, then Etsy is perfect for you. The platform specializes in this category, so it narrows down the kind of visitors that it gets. As a result, sellers have a higher chance of conversions.
There are several marketing tools available to Etsy sellers. You can use these tools to generate coupon codes and drive sales.
Becoming a seller on Etsy is quite easy. It follows a simple process and can be completed within an hour.
5. Facebook Marketplace
Wondering what Facebook is doing on this list? Facebook is not just a social media giant. The platform is now one of the best online marketplaces to sell on.
Selling on Facebook's marketplace is easy. The bulk of the signup process involves having a Facebook account. There are no listing fees, and the platform is ideal for sellers who want to save costs.
While Facebook is a giant on social media, it doesn't yet have a large customer base. Also, it is not the best place for sellers who want to sell brand new items. This is because the platform is known for selling used items at a relatively low price.
6. NewEgg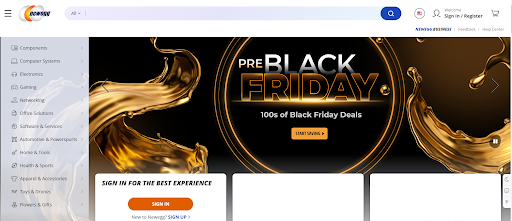 If you are a tech retailer, you should check out Newegg. It is a niche marketplace known for selling electronic devices like laptops, TVs, and mobile phones. Its exclusive focus on one product category distinguishes it from other marketplaces. Also, it offers its products at affordable prices to customers.
A Newegg membership is free and you pay 8-15% on each sale. If you pay for a subscription, you will have access to their eCommerce marketing programs. Also, sellers can take advantage of affordable fulfillment services.
Benefits of Selling on Online Marketplaces
If you're still unsure of why you should use online marketplaces, here are a few points to clear your doubts.
Online marketplaces are an easy way to start eCommerce businesses. Sellers who want to sell online but do not have capital can make use of any of these marketplaces. Launching a website is a cost-intensive move for new sellers. So using online marketplaces is a great way to start. Apart from the fees that you may incur, all you need is your starting capital.
Established customer base
Most online marketplaces already have a loyal customer base. It takes a long time to gain visibility and market acceptance. So, your best bet is to launch your business on the wings of an already popular platform. This way, you gain access to their customers, which gives you a higher chance of making sales.
Access to functional systems and structures
Online marketplaces provide a soft landing for new sellers. This is because they already have functional systems in place. For instance, the fulfillment service makes it easy for sellers to fulfill orders.
Also, creating similar systems and structures may take a lot of time. So, consider this before deciding to start from scratch.
Conclusion
Starting an eCommerce business is an excellent way to earn online. But, to do this, it is crucial that you choose a platform that is best suited for your needs. Take all major factors into account before settling for an online marketplace.
Ensure you research profitable products and relevant keywords. Also, optimize your listings for visibility.