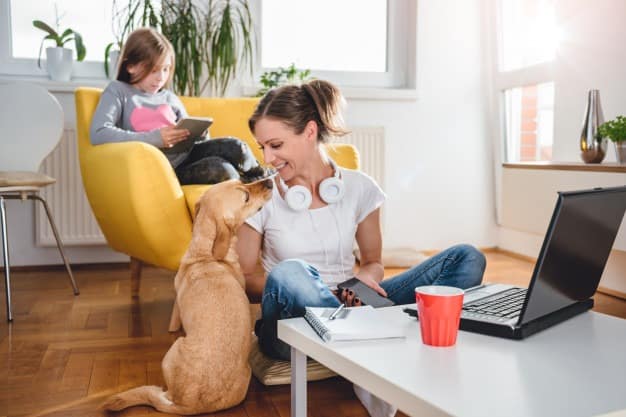 Working from home, doing online jobs, working while traveling; these are some of the most searched topics on google and life long dreams for millions of people all around the world.
I don't know about your other dreams, but this is one that can surely come true. All you have to do is make your plan and stick to it.
There are hundreds of companies all around the world that hire employees or freelancers remotely. What do you have to do? Find online job opportunities for the skills you have or learn new skills.
Work from home jobs is available for everyone irrespective of age, gender, and location. You just need an Internet connection and Laptop or Desktop to get started.
If you have to stay at home for health reasons, want to stay close to your family all the time, want to work while traveling, or want to get out of the hectic corporate job, then you need to work on finding a work from home or a remote job.
Avoid Work From Home Scams
Yes, there are scammers also available online who would trick you into taking your personal information and money. They would ask for your social security. and bank account numbers as it would be asked for a new job.
There are many cases reported for people who got into the scammer's trap and lose their money, sp always remember to trust your instinct when you are getting a vibe that something is not right.
How To Avoid Work From Home Scams?
Always trust your instinct. If you feel something is not right, do not fall into the trap. Trust me you will get better online jobs.
Do not give all your information right away. Research about the company, check reviews and online business complaint sites. If you do not find the company on social media, Google search, do not have a website or a single review, it's mostly a scam.
No company asks for money for getting you a job or interview unless its platforms like Upwork. If they are asking for some money, then it's time to step back from it.
Scammers play with your emotions, if they feel you want a work from home job very badly, they will trap you in their scam.
The Pros And Cons Of Work From Home
PROS: You save time and money traveling from your home to work and work to home. You will get the flexibility to run errands and even go to doctor's appointments.
CONS: You might end up working all the time. Sometimes with taking breaks, there is no physical separation between work and leisure time.
PROS: You do not have multiple daily meetings and interruptions from colleagues.
CONS: Sometimes there are miscommunication since you are online communication through
PROS: Yow are independent, you work on your own time.
CONS: You can get distracted easily with household work, your children(if you have) and other things.
PROS: You have your own working environment, you can design your own office at your home.
CONS: Sometimes you end up staying at home all the time and have to make extra effort to socialize and go out.
What Is The Most Profitable Work From Home Job In 2020
Freelancer
Social Media Manager- Everyone now is aware of social media and why it is important for businesses. You might not be aware of how much you can earn through social media.
You can work as a social media manager for businesses and as you gain more and more experience you start getting more and more money and work. With time you can scale your business and can hire virtual assistants to help you run a social media management agency.
What you will do as a social media manager? You will be managing social media accounts for entrepreneurs, small businesses, etc. You will post content like viral videos, memes and short-form video contents on their various social media platforms.
Online Tutor: If you are an expert in something like coding, subjects like Mathematics or biology you can start online tutoring. You can always find someone in the world whom you can teach.
Even if you are good at English you can teach someone how to speak and write in English and get paid. There are many online websites like Tutors.com, TutorMe.com, where you can actually sign up with what you are good at and start earning money by teaching.
Freelance writer: If you think you are not the best writer to freelance. You need not be best at it from the start. You can get good at it with time and with experience. You will get paid according to your level and experience.
Websites like Upwork, Fiverr, Textbroker have many freelancing jobs posted by employers every day. Read some blogs by top bloggers and learn how they write.
Website Designer: Word sites nowadays are very easy to make with websites like WordPress, Wix or Clickfunnels. You can get a fully functional website with no technical skills just from a tutorial from youtube.
If you are willing to actually learn, you can complete a fully functional website in less than an hour. There are infinite opportunities
Video Editor: Again if you are not familiar with video editing there are hundreds of Youtube videos, blog articles teaching you which tool to use and how to edit videos. You can start by using free editing tools like iMovie. You can do video editing for companies, for their social media content.
Photo Editing: Similar to video editing, you can learn image or photo editing. Today everyone is using Instagram, Facebook. Be it business, bloggers, or even celebrities. They all want to make sure their pictures are of high quality and perfectly edited.
Not only for social media but eCommerce business needs photo editors to edit their product pictures to make it look better. You just have to find those jobs and start earning by giving your service.
Translating: There are many languages spoken in the world and there are many people who need translation if they are traveling to other countries, or for business purposes.
If you know more languages you can use this to offer translation services and earn money. Upwork and Fiverr have many people looking to hire translators and are willing to pay a good amount of money.
Online Business
You might be thinking to start an online business needs a lot of experience and a lot of money. Well, that's not true all the time. Here you are going to get some great online business ideas. But before that, you need to know how to start an online business step by step:
STEP 1 Evaluate yourself: Many people spend most of the time finding out the perfect business. But, instead, they should be spending more time evaluating if they are perfect for the business. Evaluate yourself what you actually like to do, what you are passionate about, what you are good at, what you are not. You also have to consider how much capital you can invest in.
STEP 2 Evaluate the market & what you actually want: You have to understand what you actually want, why you want to build a business. You want to earn more money, build an empire, buy Lamborghini.
STEP 3 Make your business official: If you tell people, your friends, your relatives that you are going to start a new business. It makes it more real in your head and you actually put efforts to make it happen.
STEP 4 Emulating success: You no longer need months and years of time to build a business plan. Now people are creating million-dollar businesses just from their laptops. You should look at successful and reverse engineer what they did and how they achieve their success and apply that.
Here are some online business ideas that you can start on a budget of up to $2000.
Amazon FBA: You can start an eCommerce business by selling products on Amazon. As amazon seller, you can choose two options: FBA fulfillment by Amazon where, products packaging, shipping, customer service, and returns are taken care of by Amazon. FBM fulfillment by Merchant where you have to fulfill your order by yourself.
More than half of Amazon sales come from third-party sellers. Amazon FBA business needs you a minimum of $1500 budget to start. So, if you are on a razor-thin budget then it might not be for you. But, if you have the money then you can leverage the top eCommerce platform in the world to set up your own business.
Shopify Dropshipping: If you are unaware of the shopify dropshipping business, it is the process of selling products from manufacturers to your customers by raising the price. Shopify is a platform that makes work easy for dropshippers.
Dropshipping requires less money to start as compared to the Amazon business. You do not have to pay money for the inventory.
Print On Demand: Print on Demand is the business process where you are printing copies of a t-shirt, hoodies, backpacks only when you receive an order. You do not have to buy and hold your inventory.
Here you work with your manufacturer or supplier to customize some white label products. Whenever an order is placed by your customer, you will be placing an order for those products to your manufacturer.
Affiliate Marketing
If you want to build a passive income stream then what is better than Affiliate Marketing? There are many software products that can offer you commissions if you make people sign up for it.
How do you do it? You can market the product But the correct way to do Affiliate marketing is to not talk about the software at all. The best way is to make tutorials that teach people how to make money.
For example, instead of making a video that says " jungle scout review". Make a video teaching people how to do product research on Amazon. Use Jungle Scout and say Hey,  have included a discounted link for Jungle scout. Make sure you check the link down in description out and take advantage of it.
Here are steps for you to start affiliate marketing for software:
Create tutorials on Youtube teaching people how to make money.
Identify high volume keywords.
Recreate videos that are already proven and worked on Youtube.
Include the software link.
Marketing Agency
You can run a digital marketing or social media ads on behalf or entrepreneurs and small businesses. There are many local businesses like real estate agents, dentists, doctors, painters that are not catching up with Internet marketing and advertising.
With just 3 steps you can build your own Marketing Agency:
Step 1: Find Businesses With Money
The first step is to find businesses with money so that they can pay you a good income. You can use software like MarketerMagic to help with that. How to do that?
Go to the website to sign up for your free trial. Once you are inside the tool watch a free course Marketer University.
You want one of its too Many Leads. It is a very advanced tool that will give you tens of millions of different terms, pages, and websites and all these different things.
You have to enter a keyword for the business and location and it will show you hundreds of businesses around the area with their contact information.
Step 2: Reach Out To Businesses
Now, you have got all the information about businesses that you have to connect to. You can reach out using their email address or message them on Facebook. Even better if you are good at phone calls you can directly call them and close the deals.
Step 3: Sell Them Something
Now our last and most important step is to sell them something. You have to be a master at one skill that is going to pay you in thousand of dollars.
You can learn digital marketing skills like creating and managing Facebook ads, Google Ads. Then, offer to run the ads for free for some days say one week. When you can show what results you can give, those businesses will most likely offer you a job.
Chat Support
You can make money up to $400 per week chatting with strangers. There are many companies or websites that will pay you for your time. The time that you will spend talking to strangers that can be their customer or client.
Where do you find a job for chat support? There are some websites like Site Staff, Apple at home advisor, Weebly.com who hires remote chat agents.
How can you get those jobs? Find below some of the points you should consider before applying as chat support:
You should be able to type up to 60 words per minute.
You are good at grammar and spelling.
You are able to multitask and carry on 3-4 chats at the same time.
You should have a great problem-solving attitude.
You are self-disciplined and a Team-Player.